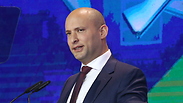 Education Minister Bennett
Photo: Amit Shabi
Israeli academics come out against proposed ethical code
Association of University Heads says the ethical code, which bars lecturers from expressing political views in class, 'severely and fundamentally undermines academic freedom'; Bennett: 'We're in favor of academic freedom, and we're against promoting political agendas in academia.'
Many lecturers in Israel's universities and colleges have come out against a proposed ethical code that would bar them from expressing political views in class or supporting academic boycotts.

VERA, the Association of University Heads, issued a strong condemnation of the proposed code on Saturday night, saying such an ethical code "severely and fundamentally undermines academic freedom."

Education Minister Naftali Bennett has adopted the ethical code written by Prof. Asa Kasher, who also wrote the IDF's ethical code.

The ethical code, VERA claimed, doesn't just determine rules of appropriate conduct, "many of its articles deal with overall academic activity in research and teaching. This makes the code a collection of rules dictated by the government regarding all academic activity of faculty members in Israel."

VERA head, Prof. Joseph Klafter of Tel Aviv University, added the decision was "fundamentally wrong and driven by political interests," adding the code will be "used by interest groups to clash with academic faculty members on a daily basis."

"This very code, which claims to be protecting the universities, is turning them into hostages of those who would try to portray as political even content that is free of any agenda," said Klafter.

Prof. Neve Gordon of the Ben-Gurion University was even blunter when he declared, "You won't silence us, and we will continue to talk politics in class. Prof. Kasher and Bennett are turning students into spies who supervise everything lecturers say."

Ram Shefa, the head of the Israel Students' Union, also expressed his opposition to the proposed ethical code. "Don't try to cover our ears. We, the students, are Israel's future generation. Trust that we know how to think on our own."

Shefa added, "We met with Prof. Kasher when he set out to write the code, and we made it clear that while we will fight to ensure every student feels safe to express his positions without fear of ramifications, we would not do this at the cost of silencing and undermining the freedom of expression."

"The code has strayed far from its mission of ethics," Shefa continued. "Thinking that you could limit statements and thoughts in academia is fundamentally wrong because yes, everything is political, and it is impossible to separate politics from other matters, all the more so in academia."

Members of the opposition also came out against the ethical code. MK Tzipi Livni (Zionist Union) called it an "unethical document more fitting of dark regimes."

Fellow party member MK Mickey Rosenthal called the code's author, Prof. Kasher, "a philosopher at the service of Mossad," adding, "The philosopher, who 'koshered' the policy of assassinations and wholesale house demolition in the territories, is now tasked with destroying academia and policing it so it toes the line set by Minister Bennett."
Right wing support
Education Minister Bennett defended the code on Sunday morning, saying it is meant to help "prevent the silencing of opinions in academia."
"We're trying to prevent a situation in which a student could suffer for his political views, while a lecturer whose salary comes from taxpayer's money calls to boycott academia," Bennett said ahead of the weekly cabinet meeting.
"We're in favor of academic freedom," the education minister stressed, "and we're against promoting political agendas in academia."
The code received support from Prof. Avraham Diskin, the head of the School of Administration, Governance and Law at the Academic Center of Law and Science.
"These are meticulous and learned guidelines on reasonable and moderate conduct, with no punishment for violation. Academics, who frequently spread false stories about Israel's 'apartheid regime' and the 'Judeo-Nazi' IDF, and often support boycotts against Israel, are going out of their way to oppose the code because, in their opinion, academic freedom applies to speaking ill of Israel in the class and outside of it, but not to a code of conduct that is very tolerant," said Diskin.
Right wing politicians also expressed their support of the code. MK Shuli Mualem, who is a member of Bennett's Bayit Yehudi party, said that "any average student could testify academia is politically slanted to the left. It's not just about senior (lecturers) who take part in anti-Israel activity, but mostly those who preach their agenda in lectures and in their research. Had Israeli academia at least aspired to equality (in political representation), there would not have been any need to interfere."
The right-wing Im Tirtzu NGO also welcomed the code, calling it a "worthy and right move towards stopping politicization in academia."
Im Tirtzu leader Matan Peleg noted that "In recent years, we've exposed many instances of anti-Zionism in academia and lately also the infiltration of radical left-wing organizations to academic programs and clinics, and we've put continuous pressure to right this wrong. We are confident Minister Bennett will ensure the code is implemented and return sanity to academia."