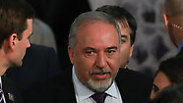 Lieberman
Photo: Ohad Zwigenberg
Defense Minister Avigdor Lieberman stated Sunday that so far this year, Israel has advanced its highest number of settlement projects since 1992. This despite warnings that such plans will further hinder chances of a two-state solution.

Lieberman made the comments even as the leaders of the settlement movement, who are highly influential in Prime Minister Benjamin Netanyahu's right-wing coalition.



Netanyahu has found himself seeking to balance the competing demands of the settlers and US President Donald Trump, who has asked him to "hold back" on such projects for now as he seeks a way to restart peace talks with the Palestinians.

Lieberman told journalists and ministers at the start of a cabinet meeting that, so far this year, plans had been advanced for 8,345 homes in the West Bank, including 3,066 slated for "immediate construction."

Settlement projects pass through a list of planning stages before final approval.

"The numbers for the first half of 2017 are the highest since 1992," Lieberman said.

The figures were similar to those published by settlement watchdog Peace Now last week.

Counting plans and tenders, activist NGO Peace Now said 7,721 units had been advanced in 2017, almost triple the number for all of 2016, which amounted to 2,699.

Peace Now could not immediately say whether it agreed that this year's figures were the highest since 1992.

Last week alone, Israel advanced plans for more than 3,000 settlement homes.

According to Peace Now, while the majority of those are for pre-existing homes, some will be built in the first new official settlement in some 25 years.

Last month, Trump visited Israel and the Palestinian territories, meeting both Netanyahu and Palestinian president Mahmud Abbas as he seeks what he calls the "ultimate deal".

But he has given no details about how he plans to restart talks, and there is deep skepticism over whether such an effort would have any chance of success.

Settlements are seen as illegal under international law and major stumbling blocks to peace as they are built on land the Palestinians see as part of their future state.

Some 600,000 Israeli settlers now live in the West Bank and east Jerusalem, alongside around 2.9 million Palestinians.

Though Netanyahu has said he still supports a two-state solution, left-wing advocates say his actions show otherwise. Last week, for instance, Netanyahu told settlers he would keep building across the West Bank.