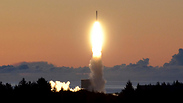 Israel will test the Arrow-3 anti-ballistic missile defense system from Alaska for the first time in 2018.

Alaska Aerospace Corporation CEO Craig Campbell said the test was part a 5-6 year, $80.4 million contract between his company and the US Missile Defense Agency, which was signed last summer.

The interceptor will be launched from a testing site in the Kodiak Islands.

"This is one of the better places to conduct a test and we plan to do that next year," said Vice Admiral James Syring, a senior US Navy official.

According to the Kodiak Daily Mirror, officials from the Kodiak spaceport will hold a meeting this Wednesday for residents to ask questions regarding the test.

The Arrow system was jointly developed by Israel Aerospace Industries (IAI) and Boeing and is largely managed by the Israeli Ministry of Defense and the US Missile Defense Agency.

The system's development over the past few years included a number of test launches of missiles and interceptors into space. After the Defense Ministry's Weapons and Technological Infrastructure Development Administration delivered the interceptors last January, the IAF has integrated the system and it is now operational.

Arrow 3 joins Israel's three-tiered air defense system, which also includes the Iron Dome, which is capable of intercepting short-range rockets; David's Sling, set to be used against heavy medium-range rockets and enemy drones, which is currently in an advanced stage of integration ahead of becoming operational; and Arrow 2, capable of shooting down long-range ballistic missiles.