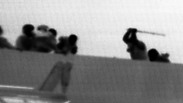 Turks aboard Marmara attack IDF commandos
Photo: IDF spokesperson
Israel has already transferred $20 million to Turkey in compensation to the families of the 10 Turkish nationals killed during the 2010 IDF raid on the Mavi Marmara, a ship trying to break the Gaza blockade, but the money has yet to reach them.

The compensation money, which was transferred in September, was one of the conditions set by Turkey as part of the reconciliation agreement between the two countries.

While the two countries have resumed diplomatic ties, the money is stuck in the Turkish Finance Ministry, leading the families to file a civil lawsuit against the Turkish government.




The families petitioned the court in conjunction with the Human Rights and Freedoms and Humanitarian Relief (IHH), which organized the flotilla.

The Turkish Finance Ministry claims it has yet to reach a consensus with the families about the sum each family was going to get, saying each family demanded a different amount.

According to Turkish newspaper Hürriyet Daily News, the families are demanding to raise the sum of the compensation by adding "moral compensation."

Over the weekend, the Turkish Finance Ministry said in its response to the lawsuit that while it "can never aim to upset or offend the families of citizens who lost their lives," it nevertheless rejects "the exorbitant amount of material and moral compensation asked by the plaintiff."

The Turkish nationals aboard the Marmara, the ministry said, "should have foreseen that they may be subject to such an attack because the problems between the Israeli state and Gaza are well-known."

"They took the risk of any attack or intervention. These elements should be considered when determining the amount of compensation to be paid," the ministry added.