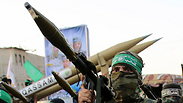 Hamas fighters in Gaza
Photo: AP
Red Crescent: Hamas tried to stop humanitarian aid distribution in Gaza
UAE aid organization says Hamas provoked Israeli forces by firing rockets from field hospital where the group's staff were stationed during the 2014 Operation Protective Edge; 'This shows (Hamas's) wicked intentions and how they scarified us,' says secretary-general Mohamed Ateeq Al-Falahi. 'The betrayal came from them.'
The secretary-general of the Red Crescent Society of the United Arab Emirates accused Hamas on Monday of attempting to prevent the distribution of humanitarian aid in the Gaza Strip.

According to Secretary-General Mohamed Ateeq Al-Falahi, the Red Crescent's staff was stationed at a UAE field hospital in the strip during the 2014 Operation Protective Edge when Hamas fighters began provoking Israeli forces by firing rockets from that hospital.

This led Israel to attack the hospital as the launch point for the rockets, thus sabotaging the distribution of the humanitarian aid.

"This shows (Hamas's) wicked intentions and how they scarified us," said Al-Falahi. "They always claim the enemy targets humanitarian envoys, but the betrayal came from them."

When the Red Crescent team was leaving Gaza, Hamas "accused us of being spies, undercover foreign intelligences who were escaping."

When they left the strip through Sinai, Al-Falahi said Hamas had apparently informed "extremist militias in Sinai... that there was a group making their way there, so prepare for jihad against them... as we stopped at a grocery store to buy something to eat, they started shooting at us."

In addition, he said, the Red Crescent team learned those extremist militias had also planted landmines a few kilometers down the road.

"What hurts is that the betrayal came from our own people," Al-Falahi lamented. "Muslims fighting Muslims, who were giving humanitarian aid to Muslims."