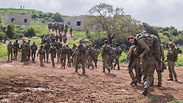 Reservists request transfers in protest of commander's dismissal
Ten reservists have already requested a unit transfer and some twenty additional soldiers are expected to follow suit as a result of Maj. Manny Eitan's removal for refusing an order. Eitan: '"Two years ago they wanted me to be a battalion commander, and now to dismiss me because I said something is not safe. We are talking about safety.'
Reserve soldiers under the command of Maj. (res.) Manny Eitan are requesting a unit transfer in protest of Eitan's dismissal by superiors for refusing an order that would have given his men fewer hours of sleep.
Three weeks ago, Eitan had refused to wake his soldiers up in the middle of the night for a unit exercise because he was worried that their lack of sleep would lead to injuries or traffic accidents on their way home. The IDF decided to remove Eitan from command as a result of his refusal.
Rubi Hazoni, a platoon commander and officer in Eitan's company told Yedioth Ahronoth that "in previous exercises, at the end of 2016, we had a battalion exercise at night. Nobody worried that the men sleep six hours; we got three hours of sleep and two soldiers fell asleep behind the wheel on the way home. One of the men totaled their vehicle and the other woke up before ramming into the guard rail. As a result of that, there was a decision to put an emphasis on sleep before soldiers go home."
Currently, more than ten soldiers have already requested a transfer from the unit and sources say another 20 are expected to make a similar request in the coming days.
Asaf Azulay, a commander in the unit, said, "They don't feel safe with the decisions that the brigade commander is making. When you think about it, these are civilians who are leaving their regular lives and the minimum they expect is that someone will have their backs and take care of them at the moment of truth."
Eitan, who lost his sister in a car accident and therefore places great importance on road safety, said, "Two years ago they wanted me to be a battalion commander, and now to dismiss me because I said something is not safe? How is that proportional? It's not a crisis about some kind of issue where the men are being spoiled. We are talking about managing safety."
The IDF issued a statement in response, saying, "The decision to terminate the position of the company commander after he refused the order was taken seriously and from a moral and command perspective. There is no place in the IDF for refusing an order (such as the one refused)."