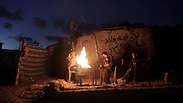 Prime Minister Benjamin Netanyahu said Tuesday that Israel has no desire for an altercation with Gaza's Hamas rulers after the Islamic militant group warned of violence if power to the territory is reduced.

Netanyahu said the electricity supply to Gaza is an internal Palestinian issue. He added that "Israel has no interest in escalation."

Gaza's 2 million residents get by with just four hours of electricity daily. In an effort to further pressure his Hamas rivals, Palestinian President Mahmoud Abbas says his West Bank government will stop paying Israel to provide electricity to Gaza.

Hamas warned of new violence Monday if power is cut.

The Gaza electricity distribution company says it has not been informed of Israel complying with Abbas' move, but warned of "serious deterioration" if cuts go into effect.