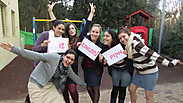 National service volunteers
Drop in national service volunteers amid increase in girls in the IDF
Hundreds of volunteer positions remain vacant across the country, but head of Administration for National-Civic Service says IDF enlistment of religious women is not the sole factor, noting Shin Bet, Mossad and government ministries add new, more appealing volunteer posts.
A significant increase in the enlistment of religious girls to the IDF has created a shortage in national service, with hundreds of volunteer positions left vacant.

Despite the harsh criticism from some of the religious Zionist rabbis against the recruitment of women to the IDF, the number of religious girls who enlist has steadily increased every year.

In 2012, for example, 1,538 girls defined by the army as religious enlisted, while in 2015 their number rose to 2,260.

In the past, many of the religious Zionist girls who did not enlist in the IDF volunteered for national service instead.

But now, dozens of volunteer positions that used to be coveted—such as branch coordinator at the religious youth movement Bni Akiva—have yet to be filled, with only about two months left before the beginning of the next school year.

Hundreds of other volunteer positions that have yet to be filled include instructors at afterschool programs for children from poor families, teacher's assistants at kindergartens for autistic children, and teacher's assistants at special education schools.

"We have a kindergarten for autistic children, and the girls who volunteer there are doing holy work that isn't easy. The problem is that at the moment we don't have any volunteers for next year," said a national service coordinator from northern Israel.

A coordinator in Eilat described a similar situation. "In recent years, Eilat has been one of the places that filled up (its volunteer quotas) the fastest. There are 27 volunteer positions in the city, but for next year we only have 12 volunteers," she said.

A national service advisor who promotes different volunteer positions said there has been a sharp decline in the number of girls who come to him to listen to the different options. "If in the past, an event we were holding drew over 1,000 girls, today we're looking at something like 300-400 girls tops," he said.

The head of the Administration for National-Civic Service, Sar-Shalom Jerbi, confirmed the numbers but claimed the reason for the drop in volunteers was not just the increase in religious girls' enlistment in the IDF.

"A lot of different places realized national service girls were an asset, which is why there are more and more positions for them in the Shin Bet, the Mossad, cyber security, and government ministries," Jerbi explained.

"If in the past religious girls only volunteered in the 'classic places,' like youth groups or educational institutions, today they have new possibilities, and this certainly affects the number of volunteers in some of the places," he added.