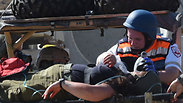 Home Front Command taking part in the exercise
Photo: Avihu Shapira
Security exercise in North, South, Sharon regions simulate massive earthquake
The police, IDF, MDA and other security bodies participate in exercise that simulates a strong earthquake; there is a fear of the need to evacuate tens and perhaps hundreds of thousands of civilians from their homes, and of total chaos,' says Public Security Min. Erdan. 'We have to examine how these organizations communicate with one another.'
The climax of a public security exercise took place on Wednesday in the northern cities of Karmiel, Tzfat, in the Sharon region city of Netanya, and in southern Israel. Hundreds of members of the Home Front Command, the police, the army, the fire department, MDA, the National Emergency Authority and city employees took part in the exercise, testing their capabilities and presentin different means for dealing with an earthquake.
The final event was attended by Minister of Public Security Gilad Erdan, Interior Minister Aryeh Deri, Police Commissioner Roni Alsheikh, the GOC Home Front Command and others.
Rescue efforts during the exercise (צילום: דובר צה"ל)
During the course of the day, the various bodies presented their capabilities, including various means of dealing with demolition sites, protective equipment and means of control, both of the police and the IDF and of the local authorities. These included rescuers from a demolition site, evacuation of casualties from a crash and hazardous materials, evacuation of the wounded through various means, from tractors entering the evacuation point itself, through MDA ambulances to evacuation of the infirmary to the hospital, and more. Food was also supplied by helicopter to those acting as local residents.
Minister Erdan noted that every year the chances of a strong earthquake in Israel increase. "It is very important to practice what you see here, there is a fear of the need to evacuate tens and perhaps hundreds of thousands of civilians from their homes, and of total chaos, in which incidents of public disorder, looting, food shortages and the need to rescue civilians from ruins could occur. We have to examine how these organizations communicate with one another, and because of this, this exercise has tremendous importance."
Police rescue Unite Head, Maj. Gen. Nitzan Levavi, held a rescue drill for the first time on wednesdayh. The exercise, which took place in an abandoned hotel in Kibbutz Tzuba near Jerusalem, was attended by 150 reservists.
In the rescue unit exercise, a variety of techniques were practiced, with the leading scenarios being the partial collapse of the upper floors of a skyscraper following an earthquake, and another scenario of internal collapse of floors inside the building. In both scenarios, it was difficult to reach the trapped people under the rubble, which necessitated a rescue technique using the German Milan system, with the aid of which one can extract dozens of trapped people in one hour by gliding along the wall of the building.