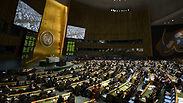 UN General Assembly
Photo: AFP
The UN Economic and Social Council (ECOSOC) accused Israel in a report Wednesday of using "force that has at times been deemed excessive" against the Palestinians, "which may have amounted to extrajudicial executions."

According to ECOSOC, from April 1, 2016 to March 31, 2017, Israeli security forces killed 63 Palestinians, including 19 children, and wounded 2,276 others, including 562 children.

The report also stated the UN's Committee against Torture has "expressed concern about a number of Israeli practices towards Palestinian detainees, including minors," and has accused Israeli security forces of "deprivation of basic legal safeguards for administrative detainees, isolation and solitary confinement of detainees, including minors, punishment and ill-treatment of hunger strikers, torture or ill-treatment of Palestinian children and the hindering of visits of relatives for child prisoners."

Among other things, the report claims "No criminal investigation was opened into more than 1,000 complaints of torture or ill-treatment filed since 2001."

Israel's Ambassador to the UN Danny Danon said he would work to scrap the report. "This is another blood libel against Israel," he said. "Just as we got the previous farfetched report scrapped, we will fight against this distorted and false report. We won't allow slandering of IDF soldiers."

The United Nations Economic and Social Commission for Western Asia (ESCWA), which reports to ECOSOC, released a report in March accusing Israel of imposing an "apartheid regime" on the Palestinians. UN Secretary-General Antonio Guterres asked that the report be removed from the agency's website, leading ESCWA's executive secretary Rima Khalaf to resign in protest.