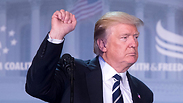 Trump lashes out at obstruction probe as Putin denies Russian meddling
President Trump dismisses possible obstruction of justice probe as a 'phony story' and a 'witch hunt'; former FBI Director Robert Mueller to head probe; Putin dismisses meddling claim, saying Comey and US officials have offered no proof.
US President Donald Trump attacked what he called a "phony story" on Thursday after a report that he is under investigation for possible obstruction of justice by the special counsel probing alleged Russian meddling in the 2016 US presidential election and possible collusion with the Trump campaign.

"They made up a phony collusion with the Russians story, found zero proof, so now they go for obstruction of justice on the phony story. Nice," Trump wrote on Twitter, later repeating his accusation that the probe is a "witch hunt."

The Washington Post, citing unidentified officials, reported on Wednesday that special counsel Robert Mueller is investigating the Republican president for possible obstruction of justice.

Mueller is leading the Russia probe after being appointed by Deputy Attorney General Rod Rosenstein in the Department of Justice, which oversees the Federal Bureau of Investigation.

Last week, former FBI Director James Comey told Congress he believed he was fired by Trump to undermine the agency's Russia investigation.

A source familiar with the Mueller investigation confirmed the Post report, saying an examination of possible obstruction of justice charges was "unavoidable" given Comey's testimony, although the issue may not become the main focus of the probe.

Examining such possible charges will allow investigators to interview key people within the administration including Attorney General Jeff Sessions, Rosenstein and possibly Trump, the source told Reuters.

The obstruction of justice investigation into Trump began days after Comey was fired on May 9, according to people familiar with the matter, the Washington Post said.

After Comey's firing, the administration gave differing reasons for his dismissal. Trump later contradicted his own staff, saying on May 11 he had the Russia issue in mind when he fired Comey.

Comey told the Senate Intelligence Committee on June 8 he believed Trump had directed him in February to drop an FBI probe into former national security adviser, Michael Flynn, that was part of the broader Russia investigation. He declined to say whether he thought Trump sought to obstruct justice, saying that would be up to Mueller to sort out.

Dan Coats, the director of national intelligence, Mike Rogers, the head of the National Security Agency, and Richard Ledgett, the former deputy director at the NSA, had agreed to be interviewed by Mueller's investigators as early as this week, the Post said. It cited five people briefed on the requests by Mueller's team who spoke on condition of anonymity.

Mark Corallo, a spokesman for Trump's legal team, denounced the Post report, saying on Wednesday: "The FBI leak of information regarding the president is outrageous, inexcusable and illegal." It was not clear why he attributed the report to an FBI leak. The Post report did not name the FBI as its source.

A spokesman for Mueller's team declined to comment on Wednesday.

Meanwhile, Moscow has denied US intelligence agencies' conclusion that it interfered in last year's election campaign to try to tilt the vote in Trump's favor.

Former FBI director James Comey has presented no evidence to prove that Moscow meddled in the US presidential election, Russian President Vladimir Putin said on Thursday, adding that Washington had tried to influence Russian elections for years.

Putin was referring to Comey's testimony to the US Senate's Intelligence Committee.

"I am not familiar in detail with the testimony given by former FBI director Comey," Putin said during a question and answer session with citizens. "Again, he gave no evidence of this (Russian meddling)."

"And what about constant US propaganda, constant US support of America-oriented non-government organizations by giving them money directly? Isn't it an impact on our minds? Isn't it an attempt to influence how we should behave during election campaigns? This continues year after year," he said.

Putin, in a combative mood, said many heads of state around the world had told him of similar US meddling in their internal affairs. But they would not voice their concerns openly, fearing to "spoil relations" with Washington, he said.

As for Russia, "we have an opinion of our own, we express it openly. But this is not any sort of underground subversive activity", Putin said.

Putin also said that it was "very strange" for a former FBI chief to leak details of his conversations with the US president to the media through a friend of his.

"What is the difference then between the FBI director and Mr. Snowden?" Putin said, in a reference to former US National Security Agency contractor Edward Snowden, who was granted asylum in Russia in 2013 after leaking classified information about US spy operations.

"In this case, he (Comey) is not the head of a special service but a human rights activist who defends a certain position," Putin said.

"By the way, if he (Comey) is subject to any sort of persecution in connection with this, we will be ready to give him political asylum in Russia. And he should know about this."