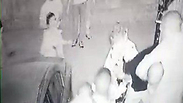 Qalansawe family claims police used excessive violence
A family from Qalansawe claims police used excessive violence while searching for a wanted suspect and violently assaulted several family members; police issue statement saying family and villagers tried to stop police from conducting their search and assaulted officers.
Police officers searching for a wanted suspect in Qalansawe are being accused of excessive force and violence by a village family.

In a conversation with Ynet, the family said they did not understand what police wanted and claim authorities resorted to violence immediately.

Footage of the incident

According to Kafa Suidan, the wife of one of the detained suspects, "We were sitting at a Ramadan meal. All of a sudden, we saw police around the house. Within seconds, they entered the hour two dogs and started causing damage during their search. They disrespected the women.

"They humiliated and cursed at us, and yelled at us in front of the children. The children were terrified and didn't stop crying. All this happened without us understanding what they wanted."

Suidan said her husband and two of her sons were violently arrested. "They beat them and wounded them. We called an ambulance, but unfortunately, they did not allow them to treat the wounded.

"The police also brought dogs into the house. I tried to stop them, but a police officer pushed me hard and the dog that was with him bit me in the mouth. They treated us like terrorists. Even criminals don't get treatment like this."

Finally, the family understood that police were searching for a wanted suspect, who is a resident of the West Bank. "I don't know where they got this false information. We would never do something like that."

Suidan went on to claim that the family intends to file a lawsuit against police, saying, "We won't go through this quietly."

In response to the claims of the family and footage, police issued a statement saying, "The residents of the home and additional persons attempted to prevent police from conducting operations by attacking officers. Four suspects were detained for assaulting police, obstruction of justice and insulting a public servant."