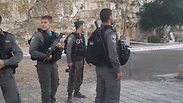 5 wounded in shooting, stabbing attack in Jerusalem; border policewoman and 3 terrorists killed
Three terrorists are shot and neutralized by security forces near the Damascus Gate in Jerusalem after carrying out combined shooting and stabbing attack; border policewoman Hadas Malka, 23, later succumbs to her wounds at the hospital.
Three terrorists armed with semi-automatic weapons and knives struck in two different parts of Jerusalem's Old City, Friday night, critically wounding 23-year-old border policewoman Hadas Malka, who later succumbed to her wounds.
All three terrorists, Palestinians from the West Bank, aged 18-19, were shot and killed at the scene by security forces.
Jerusalem terror attack (צילום: דוברות מד"א)
Malka had been evacuated in critical condition to Hadassah Mt. Scopus Hospital for emergency medical treatment after the attack.
Four others were moderately and lightly wounded.
According to reports from the scene, two terrorists opened fire at a police force near Sultan Suleiman St. while the third terrorist stabbed Malka near the Damascus Gate.
Jerusalem district police commander Yoram Halevy described the attack, saying, "At one scene, near Sultan Suleiman St., two terrorists—one armed with a semi-automatic weapon and the other a knife—attacked police. Police responded and killed both attackers at the scene. Several meters away, at the Damascus Gate, an additional terrorist stabbed a border policewoman, critically wounding her. The terrorist was shot by other officers in the area."
According to MDA, two members of security forces were wounded, with another border policeman sustaining light injuries to his eye. Additionally, a 22-year-old man and a 40-year-old man were evacuated to Shaare Zedek Medical Center in moderate condition after sustaining gunshot wounds to the torso and limbs, respectively.
According to Halevy, "We are in the third part of Ramadan and as we near the end of the holiday, the more sensitive the situation becomes. We will have to make difficult decisions such as whether or not to allow people to come to Jerusalem, if we should allow them to pray in such large numbers, which can lead to terror attacks.
"We will conduct a situational assessment tonight with security forces and it is possible that there may be serious consequences in regards to the issue of Ramadan, which only ends in ten days."
According to sources in the security establishment, the style of attack conducted Friday evening is reminiscent of the combined attack which killed border policewoman Hadar Cohen last February.