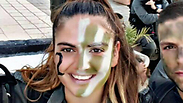 Hadas Malka, the soldier who died fighting a terrorist
'Shabbat Shalom to my favorite friends,' wrote 23-year-old Hadas Malka on Whatsapp, an hour before she died at the hands of a terrorist; her uncle told Ynet: 'She did not want to be in the navy, she wanted a meaningful service, to contribute, she was patriotic like no other.'
1st Sgt. Hadas Malka is the Border Police fighter who was killed Friday in the combined attack in Jerusalem. According to a Border Police statement, "she struggled for a few seconds with the terrorist, who stabbed her several times while trying to grab her weapon. The fighters who saw what was going on fired at the terrorist, killing him. "

"Shabbat Shalom to my favorite friends," wrote Malka in Whatsapp group comprised of childhood friends, a few minutes before she was killed in the attack in Jerusalem.

Hadas Malka during a car ride with friends

Malka, 23, came from the moshav of Givat Ezer in the Be'er Tuvia Regional Council, was promoted to the rank of 1st sgt. after her death. She was enlisted into the IDF Border Police and continued on after her mandatory service.

She began her service in the navy, but fought to serve in the Border Police, where she felt she could contribute more to the country. Her uncle, Yaakov Abutbul, told Ynet: "She did not want to be in the navy, she wanted a meaningful service, she wanted to contribute, she was patriotic like no other."

Her uncle added: "For Hadas, her army service was when she began to blossom, and our flag symbolized a lot to her." When she wanted to move to the Border Police, I would say to her, 'Again with basic training?' And she replied: 'It's worth it to me.'

"She always accepted those who were difference, helped out, volunteered at school. She would come home from the army with a smile on her face, and never complained," he said.

After she had finished her mandatory army service, MAlka worked for several months in the Ashdod port, before she was offered to return to the army and sign up for Border Police for a year and three months, which she accepted. She had recently begun a fitness training course at Wingate Institute for Physical Education and Sports.

Hadas leaves behind her parents, three sisters and two brothers. She will be laid to rest tonight at 00:30 at the Ashdod cemetery.

According to sources in the local council, "The family is a young and well-known one in the region. This is a very difficult piece of news, and we are now busy providing assistance to the family."

According to the Border Police, Malka arrived at Mount Scopus Hospital after being critically injured in the attack, where she eventually died of her wounds.

In February 2016, a similar attack was carried out near the Nablus Gate, in which Border Police soldier Hadar Cohen was murdered. Cohen, who enlisted only two months before the attack and was sworn into her job a week earlier, was placed in Jerusalem as part of that Border Police regiment that managed to kill one of the three terrorists who stabbed her friend R., also a combat soldier, before another terrorist shot her at close range.

A few days after Hadar Cohen's attack, Hadas Malka published "We are all Border Police guards. In memory of heroine Hadar Cohen" on her Facebook page.

Two additional members of security forces were reportedly wounded, as well as a 22-year-old man and a 40-year-old man, who were evacuated to Shaare Zedek Medical Center in moderate condition after sustaining gunshot wounds to the torso and limbs, respectively.

International terrorist group ISIS claimed responsibility for Friday's attack, in what is reported to be the first time it has claimed to be behind an Israeli act of terror. However several Palestinian terror groups and parties denied this, with Israeli security sources also believing the claim to be false.

Immediately following the attack, Prime Minister Benjamin Netanyahu ordered the cancellation of permits for family visits from the territories to Israel. However, permits for entry into Israel were left in place for those approved entry for the Ramadan prayers.

The decision was made during a conversation with Public Security Minister Gilad Erdan, Police Commissioner Roni Alsheikh and other security officials.

"The IDF and the security forces are operating in the area of the village from which the terrorists left," the Prime Minister's Office said. "Members of their clans the terrorists belonged to will be denied the right to enter Israel. The village has been placed under lock down. "