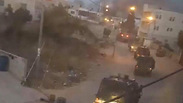 IDF forces enter Deir Abu Mash'al
IDF forces raided the village of Deir Abu Mash'al near Ramallah on Saturday, the home of the three terrorists who carried out the deadly terrorist attack Friday that claimed the life of Border Police soldier 1st Sgt. Hadas Malka and left four others wounded.

Troops from the Kfir Brigade, the Home Front Command and the elite Duvdevan and Oketz units arrived at the village and began mapping out its layout, in preparation for the demolition of the three terrorists' homes. They also searched for any weapons held or hidden by local residents and confiscated 22 illegal vehicles.

In addition, the forces raided the houses of the terrorists and took confiscated their permits to enter Israel as well as documents and personal equipment belonging to the killed terrorists. At least one person suspected of assisting them was arrested during the raid.

During the retaliatory operation, some 200 Palestinian started rioting, throwing Molotov cocktails, burned tires, and stones at the Israeli forces and tried to block roads in the village.

Israeli security forces responded with riot control measures such as rubber bullets, sponge grenades and even live ammunition, fired at several main instigators. The soldiers reported four hits to lower body parts of several protesters. There were no casualties among Israeli forces.

IDF forces surrounded the village and declared a 24-hour lock down on it. The lock down might be extended to 48 hours, or turn it into a "porous" closure, with checkpoints allowing passage to and from the village as early as Saturday night.

The IDF stressed the resulting actions were not an attempt to issue a collective punishment upon the village, but rather a way to fortify Israel's security. In the past two years, many attacks were carried out after perpetrators were inspired by a family member, with terrorists setting out for revenge shortly after one of their relatives was killed in an attack.

To express this to local residents, the IDF distributed a pamphlet in the village explaining that surrounding the village is intended create "thwarting without frustration," thereby reducing the chances of the next attack from this village or the surrounding area.

"To the residents, following terror attacks in your area, IDF forces are working to disrupt and thwart additional attacks and stop any would-be terrorists. This activity will lead to congestion on roads, increased searches, roadblocks and military activity during unusual hours," the pamphlet announced. "To maintain your safety and well being, you must adhere to the instructions of security forces."

The head of the Deir Abu Mash'al village council, Ibrahim Atta, confirmed the village is under closure and all its entrances are blocked. He said during the night and in the morning clashes broke out between the youths of the village and IDF forces, who responded by firing at them. Atta claimed three youths were wounded by live ammunition and dozens were wounded by rubber bullets and tear gas.