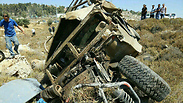 Humvee overturns
Photo: TPS
IDF Humvee topples over leaving 2 soldiers injured
Initial investigation indicates that IDF Humvee careened off the road after driver attempted to avoid crashing with a Palestinian vehicle being recklessly driven; two left in light-to-moderate condition; accident occurs less than 24 hours after another IDF Humvee flips over near Gaza, leaving 20-year-old Sgt. Yuval Maneh dead.
Two IDF soldiers were left in light-to-moderate condition on Sunday afternoon after a military Humvee overturned on Route 35 in the southern Mount Hebron area near the settlement of Adora.

Initial findings indicate that the accident occurred after a Palestinian vehicle, reportedly travelling dangerously, caused IDF driver of the keep to careen off the road, resulting in the jeep to flip over onto its side.

After the two soldiers were treated at the scene of accident, they were transported to Hadassah Ein Kerem Hospital in Jerusalem.

The accident took place within twenty-four hours of a similar incident in which a military Humvee toppled over on the Gaza Strip border near Kissufim, leaving Sgt. Yuval Maneh (20) from the IDF's Paratroopers Brigade dead and three others injured.

After Saturday's fatal incident, all of the casualties were taken to Soroka Medical Center in Be'er Sheva for treatment.

According to the initial investigation, Maneh's Humvee overturned due to an accidental loss of control. Maneh, who was sitting in the front seat, was mortally wounded and died of his wounds. The IDF is continuing to investigate the circumstances surrounding the incident.