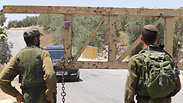 Enforcing closure on the attackers' village
Photo: Gil Yohanan
The uncle of one of the three attackers who killed a 23-year-old Border Police officer and wounded four others on Friday spoke with Ynet, distancing his family from the attack, on Sunday.

"The family had no prior knowledge of the intention to carry out an attack," said Mohammed Atta, the uncle of Osama Atta, who carried out the attack together with Adel Anakush and Bara Saleh. "There are no parents who wouldn't stop their son if they knew about his intentions. We have no joy; he's dead."

The three Palestinians, armed with an automatic weapon and knives, assaulted officers on duty near the Old City in two locations Friday evening.

Police said Master Sgt. Hadas Malka, 23, was rushing to respond to that initial attack nearby when a Palestinian assaulted her with a knife. Malka wrestled with the man for several seconds as he stabbed her multiple times before other officers saw what was happening and opened fire, killing him, police said. She later died of her wounds in hospital. The other two attackers were also shot dead by security forces.

The uncle completely dismissed ISIS's claiming responsibility for the attack: "Osama was identified with Fatah and has nothing to do with ISIS. He was imprisoned in Israel for a year, and in prison, too, he was identified with Fatah. He was not religiously observant and had nothing to do with ISIS."

He explained that his family believes that a sense of revenge for that period of imprisonment in Israel may have prompted Osama to carry out the attack, but he emphasized that it was only a hypothesis. "He spent a year in prison, and this is an age when nationalist fanaticism and nervousness prevail," he said.

The family has expressed doubts regarding the details Israeli authorities released about the attack, and specifically do not believe that the attackers had guns.

Adel Ankush's father said he was completely surprised by the fact that his son had carried out an attack: "I did not expect anything like this ever to happen. I'm in shock. He was the hope of the family."

Prime Minister Benjamin Netanyahu criticized the Palestinian government for not condemning the attack.

He called for the world to "demand the immediate cessation of Palestinian Authority payments to the families of terrorists, something that only encourages terror."

AP contributed to this report.