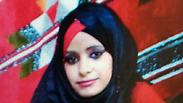 Hanan al-Bakhiri
Photo: Police
The Israel Police issued a statement on Sunday saying that they have extracted a murder confession from the cousin of 19-year-old Bedouin woman Hanan al-Bakhiri, who disappeared last month. In addition to her cousin, the suspects in Hanan's murder are two of her uncles. The case is being treated as an "honor killing." On Saturday, several protest rallies broke out across Israel, calling on authorities to act to protect women from domestic violence, in light of the high murder rate over the past six months.

Hanan Al-Bakhiri had called her mother on May 3, around 9 pm, telling her she was on her way home. Police suspect that shortly after, she was kidnapped and led to her death.

It was Hanan's cousin, Mahmed, who eventually confessed to the murder during a police interrogation, saying he had killed Hanan together with his father Yunas and uncle Sager al-Bakhiri. After confessing to the murder, Mahmed lead the police to the spot where Hanan was buried. Though he acknowledged killing her, he did not express any remorse over his actions. Police have informed her mother that Hana's remains will be transferred for a proper burial.

After her father died, Hanan was put under the custody of her uncle. She was eventually married off to a man with disabilities, whom she divorced shortly after, about six months before her disappearance. After Hanan was requested to return the money her husband's family had paid for her, she found a job and began leaving the house for work. The police investigation found that her uncle saw both the divorce and her decision to start working as actions that "dishonored" their family.

Police furthermore found that after she was kidnapped, her uncles and cousin kept her alive for a week, as they searched her belongings and interrogated her about the people with whom she had been in contact. When they were done, they broke her neck, before proceeding to burn her body for two hours, remove her remains in a sack and then bury them in the ground, three to four meters deep.

Hanan had in the past filed a complaint against her half brother, alleging he had threatened and hurt her. She later withdrew her complaint, saying that nothing had really happened. During an investigation, though, it was discovered that he had broken her hand and threatened her to drop the charges.

Hanan's neighbors expressed sorrow over her murder. "Poor Hanan," one of them said. "The things we know are hard to say. We have our customs, which are different than (those of Jews—ed). There are things we see in a non-positive way. For you, it's freedom. We have our mentality. I didn't see her going out with someone with my own eyes, and if you haven't seen something with your own eyes, you can't say anything. But there are a lot of rumors. People see her go out. Come back. A cousin says something. Another person says something."

The suspects are being represented by attorneys Mahmed Abu Farih, Yossi Lin, Rami Shalbi and Erez Shalev. So far, they have issued statements saying their clients deny the crime they have been accused of committing.
Women and men protest complicity that allows women's murders
Hanan is one of 16 cases of domestic violence ending in the murder of a woman over the past six months. In response to the mounting cases, several women-led protests took place on Saturday, with the larger rallies taking place in Tel Aviv, Jerusalem and Haifa. The participants cried out against the perceived lack of action taken by authorities to counter this trend and lower it. Hundreds of people arrived at Habima Sq. in Tel Aviv, 500 Arab and Jewish women and men arrived at Sefer Sq. in Haifa, and some 60 protestors arrived at Zion Sq. in Jerusalem. Protests were also held in Afula and the Galilee's Goma Junction.


"We call on the Israeli government to convene an urgent meeting and act to found a national emergency plan to combat violence against women," the organizers of the Tel Aviv protest posted on Facebook.
Several MKs also arrived at the Tel Aviv rally, including Amir Peretz (Zionist Union), Dov Hanin (Hadash), Tamar Rozin (Meretz) and Tamar Zandberg (Meretz).
Zandberg stated that "nothing in this country is as quietly accepted as the mass murders of women. We are now seeing a movement that's the first of its kind, of women who are not staying silent, but clearly stating that this isn't a fluke or a mistake, but a policy. A government plan that already exists remains for the time being only in writing, without being implemented. There are things to do, this isn't predetermined."
Ilana Kuriel, Gilad Morag, Ahiya Raved and Elisha Ben Kimon contributed to this report.