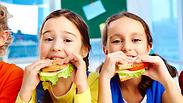 Celebrity Israeli chef Haim Cohen launched the nonprofit Nevet's first US fundraising campaign today urging American Jews and Israeli Americans to help feed hungry school children in Israel. The campaign rolled out on social media.

Nevet, founded by the non-profit Leket Israel in 2006, provides nutritious daily school breakfasts to disadvantaged students at 120 schools across Israel.

"School sandwiches for kids aren't just two slices of bread with a spread in between—they're much, much, much more," said Cohen, the Israeli TV cooking star and restaurateur who conceived the hybrid Middle Eastern and Mediterranean menu for New York's Taboon restaurant. "Breakfasts give school children the power to learn better and be proud."

A 2013 review in "Frontiers in Human Neuroscience" found that eating breakfast positively affects learning in children in terms of behavior and school performance, and the effects of a nutritious breakfast are particularly pronounced in undernourished children. Over the past decade, students benefiting from school breakfast programs have seen a 17.5-percent rise in their overall math grades, according to Deloitte research. More than nine out of 10 principals at schools working with Nevet reported that their students are better behaved after eating their 10 a.m. meal, and that their absence rate dropped 6 percent.

"Most Israeli children go to school without eating breakfast at home—instead they are given sandwiches and snacks to eat during a mid-morning break," said Rotem Yosef, Nevet's vice president of strategic development. "Unfortunately, many students from disadvantaged or dysfunctional backgrounds come to school hungry and empty handed—and that's where Nevet steps in."

According to the Israeli government's National Insurance Institute, there are 776,500 children living below the poverty line in Israel. Nevet distributes some 1.3 million breakfasts every year to 8,000 students daily, but there are still some 13,000 students on the organization's waiting list and many more who would benefit from a healthy, daily breakfast.

"This hidden problem is about more than just nutrition or hunger. It's also about establishing a healthy routine and creating a consistent nutritional anchor for the children every day. By feeding these kids breakfast, we feed their minds, giving them the opportunity to succeed and, hopefully, break the cycle of poverty," said Yosef.

Those interested in donating to the campaign should visit: http://www.nevet.org/en/donate-a-sandwich-for-child/ .