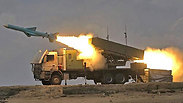 The Iranian Revolutionary Guards launching missile
The Iranian Revolutionary Guards has fired ground-to-ground missiles from western Iran into eastern Syria, aiming at the bases of militant groups Iran holds responsible for the deadly combined attacks in Tehran earlier this month, the Iranian news agency Tasnim reported.

"The spilling of any pure blood will not go unanswered," the Revolutionary Guards said in a statement, according to Tasnim.

In the combined attack from June 7, two security personnel, ten government employees and five civilians were killed, and more than 50 people were injured. Tehran authorities reported that the attackers were Iranian citizens.

Several dozen suspects have been arrested by Iranian authorities since the attack, with Tasnim quoting Iranian Intelligence Minister Mahmoud Alavi as saying that Iranian security forces had liquidated the terrorist planner in the parliament and in the tomb of Ayatollah Khomeini.

ISIS's news agency Amaq published a video of the five alleged perpetrators of the combined attack in Tehran. "This is a message from your brothers, from the people of Jihad. We urge Muslims to undermine the security of the heretical Shi'ites in Iran. Know that the necks of the heretical Shi'ites in Iran are not far from the sword of the soldiers of the Islamic state (another name for ISIS—ed) with the help of Allah."