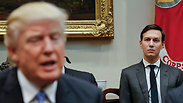 Trump with Kushner
Photo: AP
WASHINGTON - US President Donald Trump is sending two top aides to Jerusalem and Ramallah this week to discuss potential next steps in his bid to restart Israeli-Palestinian peace talks, a White House official said on Sunday.

Going on the trip will be White House senior adviser Jared Kushner, who is Trump's son-in-law and husband of his daughter Ivanka Trump, and Jason Greenblatt, a top national security aide. Greenblatt will arrive in the region on Monday and Kushner on Wednesday.

The talks follow Trump's discussions last month with Prime Minister Benjamin Netanyahu and Palestinian President Mahmoud Abbas. Behind-the-scenes conversations have been taking place since the Trump trip, the White House official said.

"Excited to be traveling back to Israel and the Pal. Territories to continue the discussion about the possibility of peace", Greenblatt tweeted on Sunday night.

Kushner and Greenblatt will have meetings in Jerusalem and Ramallah to hear directly from the Israeli and Palestinian leadership "about their priorities and potential next steps," the official said.

"President Trump has made it clear that working towards achieving a lasting peace agreement between the Israelis and Palestinians is a top priority for him. He strongly believes that peace is possible," the official said.

Kushner and Greenblatt are working with US Secretary of State Rex Tillerson and White House national security adviser H.R. McMaster on the Middle East issue.

"It is important to remember that forging a historic peace agreement will take time and to the extent that there is progress, there are likely to be many visits by both Mr. Kushner and Mr. Greenblatt, sometimes together and sometimes separately, to the region and possibly many trips by Israeli and Palestinian negotiators to Washington DC or other locations as they pursue substantive talks," the official said.