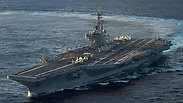 The USS George H.W. Bush aircraft carrier will dock in Haifa Bay for the first time in 17 years as it heads back to the Syrian coast to take part in the air campaign against ISIS, the United States Navy said.

The US Embassy in Tel Aviv, meanwhile, would not confirm or deny reports that the ship will dock in Israel for four days beginning on July 1.

The USS George H.W. Bush (צילום: USS George H.W. Bush Facebook)

The Pentagon said the 333-meter-long Nimitz-class carrier was moved from the Arabian Gulf to the Eastern Mediterranean last month.

The nuclear-powered ship, carrying a crew of 5,700 and 80 fighter planes, deployed from Norfolk, Va., on January 21 as part of Operation Inherent Resolve, the US military's effort to defeat ISIS in Iraq and Syria.

As part of that deployment the strike group spent more than two months in the US Central Command area of operations in the Arabian Gulf, from where it attacked ISIS targets in early March.

Later that month, Rear Admiral Kenneth Whitesell, the ship's commander, said the carrier was "harassed" and "threatened" by about 20 armed Iranian vessels while passing through the Strait of Hormuz.

Haifa served as a base for the US Sixth Fleet during the 1980s and 90s, but the Pentagon discontinued use of the coastal city in 2000 when the second intifada erupted.

Next month's visit, which will include shore leave for most of the crew, is expected to inject millions of shekels into the local economy.

Due to the carrier's size, it will physically not be able to enter the Haifa port. In order to get the crew from the ship to the shore, ferries will shuttle the sailors to the port.

When the sailors arrive at the port, dozens of buses will be waiting to take them to Haifa or any other city in the country.

Reprinted with permission from TPS.