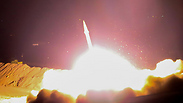 The Iranian missile launch
Photo: AFP
An advisor to Iran's foreign minister said Monday the Islamic republic's missiles attack against ISIS in Syria also served as a message to Israel, adding "I think (Israel) understood the message... it now has to worry" about its actions.

In an interview with the Al-Miyadin network, Sheikh Hussein al-Islam said the missile strike showed the strength of the Iranian Revolutionary Guards, adding Tehran "will not allow terrorism to determine the future of the region." Showing his disdain for any outside interference, al-Islam determined "the presence of Americans in the region is illegal; the US should leave Syria sooner or later."

The Iranian missile launch

"We are targeting terrorists only, and the countries that support them must know what it means when we use these missiles," he added, hinting at Israel.

"The Saudis and Americans are the main recipients of this message," said General Ramzan Sharif of the Revolutionary Guards. "Several reactionary countries in the region, especially Saudi Arabia, have announced they are trying to bring insecurity to Iran."

Al-Islam also claimed that the missiles launched were "100 percent accurate."

Israeli sources contradicted this statement, claiming that the Iranians launched 4-5 missiles from two different locations into two target groups in Deir ez-Zor and in Palmyra but only a missile or two of them actually hit their target.
'Do not threaten Israel'
Prime Minister Benjamin Netanyahu addressed Al-Islam's statements during a Likud party meeting. "The army and the security forces are continuously monitoring Iran's activity in the region," he said. "This activity is also about Iranian attempts to settle in Syria and, of course, transfer advanced weaponry to the Lebanese Hezbollah."

"I have a message to Iran: Do not threaten Israel," added Netanyahu.

For the first time in thirty years, since the war with Iraq from 1980 to 1988, Iran launched Sunday missiles against a foreign country.

Six missiles were fired from western Iran to eastern Syria, targeting the "terrorist bases" in Deir ez-Zor.

The missile strike was retaliation for the combined attack perpetrated on June 7 in Tehran, in which two security personnel, ten government employees and five civilians were killed, and more than 50 people were injured. Authorities reported that the attackers were Iranian citizens.

Several dozen suspects have been arrested by Iranian authorities since the attack, with Tasnim quoting Iranian Intelligence Minister Mahmoud Alavi as saying that Iranian security forces had liquidated the terrorist planner in the parliament and in the tomb of Ayatollah Khomeini.

(Translated & edited by Lior Mor)