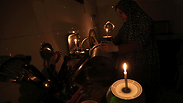 Gaza under darkness
Photo: AFP
Israel's national electric company on Monday cut back its already limited electricity shipments to the Gaza Strip, a step that is expected to worsen the power crunch plaguing the Hamas-controlled seaside territory.
The company confirmed the Israeli government instructed it to reduce supply to Gaza at the request of the Palestinian President Mahmoud Abbas' government in the West Bank.
Abbas recently told Israel he would cut payments for Gaza's electricity. Hamas seized Gaza from Abbas' forces a decade ago, and the internationally recognized Palestinian leader is trying to step up pressure on the Islamic militant group to cede power.
With Gaza's small power plant out of commission, and Israel providing a fraction of what the territory needs, residents have been scraping by with about four hours of electricity a day.
Mohammed Thabet of the Gaza electricity distribution company said Gaza's roughly 2 million residents could expect to receive even less power.
"There is nothing ... that we can do," he said.
Thabet said Gaza was receiving 112 megawatts of power a day, down from the previous level of 120 megawatts daily Gaza needs about 400 megawatts to meet its daily needs.
Though Israel and Hamas have fought three wars over the past decade, Israel has continued to provide limited power to Gaza, paid for by the Palestinians, to prevent a humanitarian crisis on its doorstep and out of concern that more instability could lead to renewed fighting.
Last week, Hamas warned of renewed violence against Israel if power is cut.
Israel has described Gaza's power crisis as an internal Palestinian issue, saying it is merely a supplier.
In a statement, the electric company confirmed it had begun to reduce supplies on Monday and said shipments would be scaled back gradually, "so that the electricity supply will match the financial commitment."
"The internal deliveries of electricity to consumers inside the Gaza Strip is not the responsibility of the electric company and is done by internal Palestinian authorities in the Gaza Strip," it said. Israel accuses Hamas of diverting Gaza's limited electricity for military use and worsening the hardship on its people.
Israel and Egypt have maintained a blockade on Gaza since the Hamas takeover in June 2007, restricting the movement of people and goods in and out of the territory. Israel says the restrictions are needed to prevent Hamas from smuggling weapons.
Abbas has grown increasingly frustrated with repeated failures in reconciliation talks with Hamas and the group's refusal to cede control of Gaza. In recent months, he has stepped up financial pressure on Hamas.
In April, he reinstated taxes on fuel bound for Gaza's only power plant, making Hamas unable to afford it. As a result, the small station has stopped working. Gaza now receives its only electricity from Israel, and a small quantity from Egypt.
Abbas has also cut the salaries of tens of thousands of former employees in Gaza, hurting the territory's already poor economy.
Gaza authorities have warned of impending health and environmental crisis because of the power shortages. Each day, 120,000 cubic meters (31 million gallons) of untreated sewage are discharged into the Mediterranean Sea.