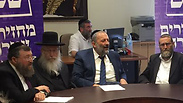 Aryeh Deri and Yaakov Litzman
Haredi parties threaten to quit government over work on Shabbat
After infrastructural work is carried out on trains during Shabbat, ultra-Orthodox parties convene, demand that PM intervene to prevent a repetition and that he abide by coalition agreements: 'If this continues, I'm not sure we will be able to remain in the coalition.'
The ultra-Orthodox parties of Shas and United Torah Judaism warned Monday afternoon that they may quit the coalition if the government continues to allow work to be carried out on the Israel Railways infrastructure during Shabbat.

During a joint meeting, the two parties called on Prime Minister Benjamin Netanyahu to act against permitting such work to take place on Shabbat, as took place this past weekend, and urged him to prevent local initiatives to operate private transportation alternatives to public transport services on Saturdays. According to the parties, overlooking it constituted a violation of coalition agreements.

Consequently, United Torah Judaism Chairman Yaakov Litzman said during the meeting that Netanyahu was obliged to intervene on the matter and to put a stop to the phenomenon before delivering his ultimatum.

"If this continues, it is a violation of coalition agreements and I am not sure we will be able to remain in it," he threatened. "The prime minister has to intervene—both in the Transportation Ministry and also with Minister Haim Katz (Welfare and Labor Minister—ed.) who supervises the work permits."

Shas Chairman and Interior Minister Aryeh Deri also weighed in on the matter expressing his regret over the work being carried out on Shabbat. "Our heart bleeds when in Israel they have turned Shabbat into a day of strengthening and fixing infrastructure," said Deri, who is currently embroiled in a police investigation over suspected undeclared assets.

For his part, MK Moshe Gafni (United Torah Judaism) insisted that "It is absolutely clear that a large part of the work can be done during the week. There is no doubt about this. If the situation doesn't return to how it was, we will go to the sages and ask them if we are permitted to sit here (in the coalition)."

In a joint statement published at the conclusion of the meeting, the two parties were forthright about their positions, concisely listing their set of demands.

"We demand that the prime minister abide by the coalition agreement, return to the status quo as it was, immediately stop the unnecessary infrastructural work on the train, both regarding the additional lines on Shabbat and the lack of enforcement of pirate companies operating public transportation on Shabbat." the statement read.

The dispute is not the first of its kind to have taken place over the last year. Indeed, last September Litzman and Deri's protests over work being conducted on Shabbat on the trains, to which they objected on the grounds that they were not essential to saving lives, threw the coalition's future into uncertainty, causing the prime minister to intervene directly on the matter.