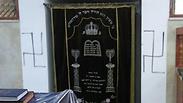 Swastikas sprayed on the ark
Photo: Police Spokesperon's Unit
Swastikas were sprayed all over a synagogue in the Nachlaot neighborhood of Jerusalem overnight Tuesday by a Haredi man suffering from mental health issues, according to suspicions following a police investigation.
Worshippers discovered as they went to pray on Wednesday morning that the perpetrator had sprayed two swastikas on both sides of the ark containing the Torah scrolls and two more elsewhere inside the premises. Moreover, he also attempted to burn a number of prayer books in the attack.
The police immediately launched an investigation into the incident and in the process discovered more swastikas had been sprayed on the doors of buildings in the neighborhood.
Amid fears of a deliberate anti-Semitic attack, the police released a statement shortly after the opening of the investigation saying that the man suspected of behind the vandalism was in fact a 38-year-old Haredi man who was suffering from mental health issues.
Prior to his arrest, Minister for Religious Services David Azulai (Shas) described vandalism on the synagogue as being "extremely serious" while Israel's Chief Rabbi David Lau expressed his shock at the incident.
"Serious incidents such as these cannot be accepted. It cannot be that worshippers go to the synagogue in the neighborhood and the heart of the holy city and have to see such difficult sites like these," he said.
At the beginning of the week, police said they they had arrested a 25-year-old man from Jerusalem on suspicion that he had committed a racially-motivated attack against a resident from the eastern half of the city.