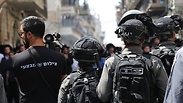 File photo
Photo: Israel Police
Border Policewoman convicted of assaulting Palestinian detainee
The police officer tried to take a 'selfie' with the 15-year-old Palestinian girl, who was handcuffed and blindfolded, and later pulled on her hair to get her to get up; judge acquits defendant of abuse charge, but finds her guilty of assault.
A Border Policewoman was convicted Wednesday of assaulting a 15-year-old Palestinian detainee from east Jerusalem in February.

However, the officer, Yasmin Kontenta, was acquitted of charges of abuse, fraud and breach of trust.

According to the indictment, the young Palestinian woman was brought to the police station handcuffed and blindfolded.

Kontenta tried to take a selfie photo with her—unlawfully and without the detainee's consent—but was stopped by one of the other police officers at the station.

Afterwards, Kontenta allegedly ordered the young Palestinian woman to get up, and when the detainee had difficulties doing so because she was restricted in movement by the handcuffs, the Border Policewoman pulled on her hair forcefully.

Jerusalem Magistrate's Court Judge Yaron Mientkavich determined this action did not constitute abuse.

"Two pulls on the hair and an attempt at taking a photo, all done in a short period of time, do not constitute a continuous series of actions and do not constitute unusual cruelty," the judge wrote in his decision. "I did not find these actions amount to abuse."