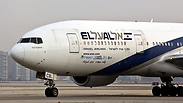 El Al to compensate Holocaust survivor after asking her to change seats
Renee Rabinowitz, 82, was asked to move seats because an ultra-Orthodox man would not sit next to a woman; judge finds the airline's policy on the matter is unlawful and discriminating; 'My message to women in Israel is when they encounter an extremist religious ruling like this, they should each fight it in their own way,' Rabinovitz says.
Israel's flag carrier El Al was ordered Wedneday to compensate a Holocaust survivor who was asked to switch seats following the request by an ultra-Orthodox man who did not want to sit next to a woman.

The Jerusalem Magistrate's Court accepted a compromise agreement reached between the passenger and the airline, determining El Al's policy on the subject is unlawful.

Renee Rabinowitz, an 82-year-old retired lawyer, boarded an El Al flight from Newark International Airport to Tel Aviv in December 2015.

Shortly after she sat down in her allocated seat, a flight attendant approached her and asked her to move to a "better" seat up front, closer to first class, because of a request by an ultra-Orthodox man who was supposed to sit in the seat next to her.

Judge Dana Cohen-Lekach determined that "Under no circumstances should a staff member approach a passenger next to whom someone doesn't want to sit on account of the passenger's gender and ask the passenger to move to another seat on the plane, as this constitutes a violation of the law against discrimination in services."

The judge ordered El Al to instruct its employees in writing within 45 days and conduct frontal instruction within six months on the matter. In addition, the judge ordered the airline to pay Rabinowitz NIS 6,500 in damages.

"I didn't think the judge would close this case today. It was supposed to be a preliminary discussion. I'm happy with the verdict," Rabinowitz told Ynet.

"I hope El Al takes this verdict seriously," she added. "I look forward to my future flights with El Al, and I hope I could witness a moment in which an ultra-Orthodox man says 'I won't sit until you move this woman,' and the El Al flight attendant tells him the law prevents her from doing so."

Rabinowitz, herself an Orthodox religious woman, added, "My message to women in Israel is when they encounter an extremist religious ruling like this, they should each fight it in their own way."

She went on to quote Rabbi Moshe Feinstein, "who said that in the public sphere, there is no problem with sitting next to women."

Anat Hoffman, the head of the Israel Religious Action Center, welcomed the ruling, saying "An 82-year-old Holocaust survivor launched a struggle against El Al because she wanted to prevent the humiliation and discrimination of more women on flights. She is an Israeli woman who, at an old age and leaning on a walking stick, decided she won't have another woman go through what she went through. This is an important verdict and this is this older woman's contribution to Israel."

El Al said in response, "The sides reached an agreement that the airline's procedures on the matter would be clarified to its employees. The court validated this agreement and the company will respect the verdict."