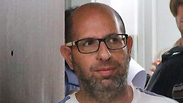 Shaul Shamai
Photo: Motti Kimchi
Teacher charged with sexually harassing minors
Shaul Shamai, 48, was a substitute teacher at a Tel Aviv elementary school, where he allegedly sat girls aged 7-8 down on his lap and touched their private parts during class; Shamai denies the allegations, claiming it was merely 'warm and embracing paternal treatment.'
Shaul Shamai, a 48-year-old teacher from Rishon Lezion accused of sexually harassing his young students, was charged on Thursday with multiple counts of indecent acts against a minor.

Shamai was indicted at the Tel Aviv District Court for sexually harassing four second grade students and a 13-year-old girl he was privately tutoring. He was also charged at the Magistrate's Court in the city with working at an institution despite being convicted of a sexual offense.

Shamai worked as a substitute teacher at an elementary school in northern Tel Aviv from October 2016 until June 2017. He was arrested earlier this month after one of the students told her mother he had hurt her, and the mother complained to the principal.

While 10 complaints have been made by second grade students against Shamai, only four of the students and the 13-year-old girl's complaints were eventually included in the indictment.

According to the indictment, during his time at the Tel Aviv elementary school, Shamai sexually assaulted girls aged 7-8 in several separate incidents. He allegedly carried out the acts during class and in front of the other students in the classroom.

Shamai sat the students down on his lap, put his hands under their clothes and touched their private parts, at times despite their verbal and physical objections.

During the investigation, Shamai was confronted with the school's principal and claimed she authorized him to hug students. The principal denied the claim.

In the case of the 13-year-old girl, the indictment states Shamai committed indecent acts against her at four instances during the time he was giving her private math lessons at her home in Rishon Lezion. In one such instance, Shamai even told the girl to "relax a little."

In another, after Shamai had harassed her, the girl called her mother in tears. Shamai called the mother, and she asked him why her daughter was crying. Shamai denied any connection between the girl's crying and the private lesson.

According to the indictment, Shamai later returned to the girl's home and apologized for his actions, asking her not to tell anyone about what had happened. He told her that if she told anyone, it would ruin his career.

Police obtained two recorded phone calls between Shamai and the girl's mother. In one of them, the mother accuses Shamai: "My daughter told me everything. Have you no shame?" To which Shamai responded, "What do you want me to tell you?"

Shamai denied the allegations against him, claiming that apart from "a warm and embracing paternal treatment," he did not harm the girls. He further claimed "it was possible that while hugging, I accidentally touched (inappropriately)."

In his questioning, Shamai did confirm the girls would approach him during class and sit on his lap. When asked whether he touched their private parts, he said: "I don't remember anymore."

He also admitted to not informing the school principal he had been previously convicted of a sexual offense.

Shamai's lawyer Koby Kamar claimed "there was a process that caused an artificial increase in complaints. It's obvious the minors did not, of their own initiative, came to file a complaint at the same time. They were 'invited' to do so with the expectation of hearing what they were instructed to say. I'm not saying they're lying and that no one was hurt, but I'm advising caution before judging a man as has been done so far. My hope is that he at least gets treated fairly, even if he had done something."