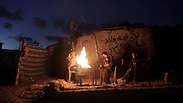 Gaza without electricity
Photo: AP
Gaza power plant back on, with help of alliance of old foes
Egypt contributes shipment of 1 million liters of fuel resulting from a surprising alliance between bitter ex-rivals, including Gaza's ruling Hamas and an exiled former Gaza strongman; move undercuts pressure campaign being waged by Palestinian Authority leader Mahmoud Abbas.
The sole power plant in the electricity-starved Gaza Strip sputtered back to life Thursday after receiving fuel from Egypt—a shipment that resulted from a surprising alliance between bitter ex-rivals, including the territory's ruling Hamas and an exiled former Gaza strongman.

Egypt's shipment of 1 million liters of fuel undercut a high-stakes campaign by Western-backed Palestinian President Mahmoud Abbas who is trying to weaken Hamas by gradually reducing the flow of electricity to the territory he lost to the militants in 2007.

Gaza's power plant had shut down in April, after Hamas could no longer afford to buy heavily taxed fuel from Abbas' West Bank autonomy government.

This left the territory with electricity sent from Israel, but paid for by Abbas' Palestinian Authority. The electricity from Israel covered about one-third of Gaza's needs, meaning Gazans were getting power for about four hours a day.

In recent days, Israel cut the electricity flow by 40 percent, at Abbas' request.

The output of the power plant, which resumed operations Thursday, makes up for the Abbas-initiated cuts, said Mohammed Thabit, a spokesman of the Gaza electricity company.

Hamas officials said more fuel shipments are expected this week, adding that 1 million liters can keep the plant running for three-and-a-half days.

Abbas has not commented publicly on the Egyptian shipment, but aides have said he is upset with the Arab nation for undercutting his pressure campaign.

On Wednesday, the Abbas government tried to prevent the power plant from accepting the Egyptian fuel shipment, threatening punitive measures if it opened its gates to the Egyptian fuel trucks, said Ghazi Hamad, a senior Hamas official.

Hamas obtained a local court order forcing the power plant to accept the shipment, Hamad said.

A Palestinian official said the Palestinian Authority had threatened to withhold its monthly support payment to the privately owned power plant if it accepted the Egyptian fuel. The official spoke on condition of anonymity because he was not authorized to discuss confidential negotiations with the media.

The fuel shipments, which ostensibly shore up Hamas rule, seem to run counter to Egypt's policy of trying to isolate and weaken Hamas, which it has accused of stirring unrest in the restive Sinai Peninsula next to Gaza. Earlier this month, Egypt had joined several Gulf nations in boycotting Qatar, in part because of Qatar's support for Hamas.

However, other factors appear to play a role, including Egyptian support for Mohammed Dahlan, an exiled Palestinian official with presidential ambitions. The former Gaza strongman had bitterly fought Hamas a decade ago, became Abbas' top aide after losing that battle and then fell out with the Palestinian leader in 2010.

Earlier this month, Gaza's top Hamas leader, Yehiyeh Sinwar, met at least once with Dahlan in Egypt, as part of a series of talks between Dahlan's camp and a Hamas delegation.

Dahlan helped persuade Egypt to send the badly needed fuel to Gaza, in exchange for Hamas allowing him to broaden his political presence in Gaza, according to officials involved in the negotiations.