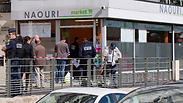 Kosher shop targeted in grenade attack
Photo: AFP
A French jihadist who threw a grenade at a Jewish store in 2012 was sentenced overnight to 28 years in prison by a court which also sent several others to jail after the dismantling of an Islamist cell which had planned other attacks.

In addition to grenade-thrower Jeremy Bailly, the jury court sentenced eight others to prison for between 12 and 20 years, with the lengthier terms handed to two men who spent time in Syria, where the Islamic State militant group has its base.

The convictions in a late night ruling on Thursday brought a close to an affair that predated the spate of Islamist-inspired attacks in France from early 2015 onwards, in which more than 230 people have been killed.

Another member of the jihadist cell—Jeremie Louis-Sidney—died in a shootout with police when they tried to arrest him in the eastern French city of Strasbourg in October 2012.

The grenade-attack at a Jewish food store in Sarcelles north of Paris the same year injured one person but killed nobody, an outcome prosecutors described as "a miracle".

The dismantling of the cell allowed police to thwart another attack planned against an army camp in the Var area of southern France in 2013, prosecutors said.

They added that the cell, half of whose members were converts to Islam who bonded on a camping holiday in Cannes, southern France, had also planned but not executed an attack on a McDonald's fast-food restaurant.

In all, the trial concerned 20 people. Two were acquitted. Among others sentenced was a 23-year-old Laotian man who was judged as the driver of the car from which Bailly hurled the grenade. He was jailed for 18 years.

Among others sentenced but not present in court were a man who joined the Islamic State militant group in Syria and thought to have possibly died there, and another on the run in Africa.