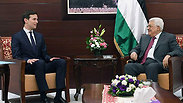 Kushner and Abbas
Photo: Getty Images
Sources in the Palestinian Authority expressed disappointment with the meeting between Palestinian President Mahmoud Abbas and the American delegation on Wednesday. The sources described the meeting, held in Ramallah, as unsuccessful.

According to the sources, the American delegation, headed by US President Donald Trump's son-in-law and senior adviser, Jared Kushner, came to the meeting presenting all the Israeli demands. As a result, they said, no progress was made, and no discussion was held on peace negotiations or a trilateral summit between Israel, the Palestinian Authority and the US.

"The American delegation accepted the Israeli position on the issue of paying salaries to prisoners and painted it at the meeting as a means of encouraging terrorism and demanded that it be stopped," the sources said.

Another issue that was dominant in the conversation itself was incitement to violence. The Palestinians expressed great disappointment that these two issues were the main things the Americans talked at the expense of the two-state solution.

The sources added that the American side demanded at the outset to cease all salaries for all prisoners in Israeli detention. That demand was then slightly softened, and included only the payment of prisoners sentenced to life imprisonment for murdering Israeli citizens.

The Palestinian side demanded that construction in West Bank settlements be stopped. "We told the American side that the settlements are the source of despair and terror because they leave no hope for the Palestinians to live on their land in the future," the sources said. The Palestinians demanded that the Americans condemn the construction of the new Israeli settlement for the evictees of Amona instead of demanding that the salaries be stopped.

Abbas tried to present his vision of a solution to the core issues, but the Americans insisted on returning to the issue of salaries and made it clear to him that his acceptance of this demand would be a sign of his true desire to reach a peace agreement with Israel. "We have no great expectations from these negotiations, so why should we pay a heavy price such as stopping the payment of salaries?" the sources said in response, noting that Abbas had refused to do so and had only expressed willingness to restart the tripartite American-Israeli- Palestinian committee to examine the issue of incitement to violence.

According to them, Abbas made it clear that the issue of paying salaries is an internal Palestinian matter. One of the sources said following the meeting "Americans are biased in favor of Israel, but we'll wait for the outcome of the talks of the Palestinian delegation in Washington next month."

Next month, a Palestinian delegation is expected to travel to DC to continue the dialogue with the Americans in preparation for a possible resumption of negotiations.