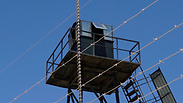 A lookout point of Green Without Borders
Photo: IDF Spokesperson's Unit
The UN peacekeeping force on Lebanon's border with Israel has not seen any violations of the UN-brokered cease-fire that ended a war with the Lebanese militant group Hezbollah in 2006, as Israel claims, the UN said Friday.

Israel filed a complaint Tuesday with the UN Security Council accusing Hezbollah of setting up observation outposts along the border on land purportedly used by an environmental advocacy group called Green Without Borders.

A Hezbollah, South Lebanon lookout station (קרדיט: דובר צה"ל)

UN Spokeswoman Eri Kaneko told reporters that over the last two years, the UN force known as UNIFIL "has observed tree-planting activities undertaken by the NGO as is their stated objective."

"UNIFIL has not observed any unauthorized armed persons at the location or found any basis to report a violation of the (cease-fire) resolution," she said.

Kaneko said UNIFIL remains in contact with Lebanese armed forces on monitoring the border to ensure there are no violations "and to avoid any misunderstandings or tensions that could endanger the cessation of hostilities."

She said "UNIFIL remains vigilant and continues to monitor the Blue Line," the UN-drawn boundary between Lebanon and Israel.

The Israeli military on Thursday released photos and video of what it said were the Hezbollah observation posts. One video showed a pair of uniformed men climbing onto a watchtower on spots Israel says are used by Green Without Borders.

Israel said the environmental group has received funding in the past from Hezbollah.

Kaneko said UNIFIL, in cooperation with Lebanon's armed forces, "closely monitors all activities close to the Blue Line."

She noted that in accordance with its mandate, "UNIFIL cannot and does not enter private property unless there is credible evidence of a violation" of the cease-fire resolution "or an imminent threat of physical violence emanating from that specific location."

The 2006 Israel-Hezbollah war ended in a stalemate.

Hezbollah, an Iranian-backed Shiite group, has since built up an arsenal that is now believed to include well over 100,000 missiles and rockets aimed at Israel. In recent years, it has suffered heavy losses backing up the forces of President Bashar al-Assad in the Syrian civil war.