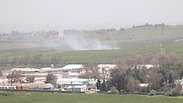 Israel attacks Syrian tanks in response to wayward projectiles
Ten mortar shells land in Israeli territory, causing no damage or injuries; the fire is presumed to be spillover from Syrian infighting; the IDF recommends residents keep their distance from the Syrian border; the military states it holds the Assad regime responsible for what takes place in their territory.
Israeli Air Force aircraft attacked a number of targets belonging to the Syrian regime loyal to President Bashar Assad on Saturday afternoon in response to mortar shell fire earlier in the day that landed in Israeli territory.

The IDF reported that ten projectiles were identified as having landed in the northern Israeli Golan Heights, apparently as a spillover from the civil war that is raging in Syria. The Israeli military added that the IAF retaliatory strike was aimed at two tanks and a position whence the projectiles were fired into Israel.

The IDF said that the fire from Syria landed in open areas Saturday and no injuries or damage was caused. But with Israelis flocking to the Golan Heights in the summer for hikes and fruit picking, the military asked them to keep their distance from the border area.

No siren was activated by the Syrian fire, which landed close to the border fence between Quneitra and the Valley of Tears.

A statement released by the military reads in part, "The IDF sees with severity and will not tolerate any attempt to harm the sovereignty of the State of Israel or the security of its residents, and sees the Syrian regime as responsible for what is happening in its territory."

The government-controlled Syrian Central Military Media said Syrian troops and their allies repelled an attack by insurgents on the outskirts of the southern city of Baath on the edge of the Golan Heights. The SCMM accused an Israeli helicopter of assisting insurgents in their attack on military outposts.

The Britain-based Syrian Observatory for Human Rights also said that Israeli warplanes attacked a Syrian army position in Quneitra while Syria's state-run news agency SANA said "an army position was targeted in Quneitra."

Israel has steadfastly stayed on the sidelines of Syria's civil war, now in its seventh year, refraining from taking sides or getting drawn into hostilities. It has responded in the past with limited strikes when fire has spilled into Israel.

The Associated Press contributed to this report.