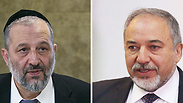 Strife in the coalition
Photos: Motti Kimchi, Ohad Zwigenberg
Coalition disagrees on Jewish Conversion Bill
The ultra-Orthodox parties' bill is to be considered on Sunday; Yisrael Beytenu demands that the special committee on religious affairs be convened, claiming, 'the law grants the Chief Rabbinate a monopoly and constitutes a change in the status quo.' Shas claims the opposite.
The "Conversion Bill," initiated by the government's ultra-Orthodox parties, which is to be voted on Sunday by the Ministerial Committee on Legislation, is facing opposition from within the coalition.

On Wednesday, Yisrael Beytenu Chairman MK Robert Ilatov sent a letter to the minister who liaises between the Knesset and the cabinet, Yariv Levin, and the chairman of the coalition, MK David Bitan, demanding that the special committee for religious affairs be convened urgently before the bill goes to a vote.

The bill, promoted by the Shas and United Torah Judaism parties, wants to leave the authority for conversions in the hands of the Chief Rabbinate of Israel, effectively granting it a monopoly in matters of conversion to Judaism

"Yisrael Beytenu is absolutely opposed to raising the state conversion bill that grants the Chief Rabbinate a monopoly on conversion in Israel," the party said in a statement. Defense Minister Avigdor Lieberman, the head of the party, added: "This law will create severe discrimination, and because of it, we're likely to lose hundreds of thousands of our people or those who are interested in converting to Judaism, including those who served or serve in the IDF."

Yisrael Beytenu announced that they are opposed to the bill for several reasons: "First of all, out of the principle that we do not intend to lend a hand to a law that would deepen the division and rift within the Jewish people. The role of conversion should be the integration and acceptance of those who wish to be part of Judaism, and rejection and a quarrel between the State of Israel and large groups in the Jewish people."

The statement added: "The proposal is raised in violation of the procedures agreed upon in the coalition accords with us regarding legislation on religion and state, and changes in the status quo on this matter. Legislation of this type must first be passed by the special committee set up for this purpose, headed by Minister Yariv Levin, and it was not convoked to discuss the matter."

The Shas party said in response: "The conversion law will pass, with the consent of Prime Minister Netanyahu and with the heads of the parties, and is intended to preserve the status quo. Minister Lieberman will not torpedo the conversion law, like he doesn't torpedo the laws of the other coalition partners."