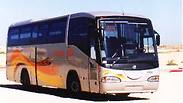 Haredi MKs ask Ministry of Transportation to stop public transportation on Shabbat
After managing to maintain gender separation at the Western Wall layout and coming out victorious regarding the conversion law, ultra-Orthodox Knesset members request Ministry of Transportation cancel bus lines working on Shabbat.
Ultra-Orthodox parties Shas and United Torah Judaism sent a letter to the Director-General of the Ministry of Transportion on Monday, Karen Turner, in which they asked to revoke permits for public transportation on Shabbat in cities whose municipalities allow for it.

In a letter signed by MKs MK Michael Malkieli and Yoav Ben Tzur of Shas and MKs Uri Maklev and Yisrael Eichler of United Torah Judaism, they name several cities where public transportation continues on Shabbat, including Holon, Ramat Hasharon and Herzliya. "Amendment 28 to the Traffic Ordinance enables the Minister of Transportation to preserve the honor of Shabbat and to decrease its public desecration," read the letter.

"The amendment states that 'the Minister shall take into account, as far as possible, the tradition of Israel, with regard to the prohibition on the movement of vehicles on days of rest'. This refers to the desecration of Shabbat and Jewish holidays via public transportation," continued the letter.

The letter was sent a day after the government decided to freeze progress on plans to construct an egalitarian section at the Western Wall to cater for the holy site's more liberal visitors following pressure exerted by Haredi parties opposed to the move. Any request to renew the promotion of the plan will require another government decision, and until then the situation in the Western Wall plaza will remain as is.

In addition, the Conversion Law, which leaves the rights of conversion exclusively in the hands of the ultra-Orthodox Chief Rabbinate, has been approved in its entirety. The decision effectively bypasses the High Court of Justice's decision to recognize private conversion for the purpose of the Law of Return.

Noa Tanua, an organization that advocates for public transportation on Shabbat, responded to the Haredi MKs' request. "We welcome and appreciate the activities of the municipalities of Ramat Hasharon and Holon, who decided not to wait for the state and take care of their own residents. The lack of public transportation on Shabbat, despite the support of 80% of the public, violates the right of everyone to choose how to live their life, especially the weaker tiers of society, who remain at home on their only day off. The ultra-Orthodox MKs' request to the Transportation Ministry shows a misunderstanding of the law, since there is no reason to prevent free public transportation, and the issue is not under the jurisdiction of the Transportation Ministry."