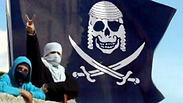 Hilltop Youth's rabbi: Cause a revolution, but don't get caught
In light of spike in hate crimes and subsequent clashes between radical settler youth and Shin Bet, Rabbi Yitzchak Ginsburgh tells extremist Jews ' it's a shame to waste time in prison,' advising his students 'by wise counsel thou shalt make thy war.'
Rabbi Yitzchak Ginsburgh, a religious leader for Hilltop Youth, has asked his students to act to "cause a revolution" in Israel, but to do so cunningly so as to not get caught.

In a lesson he taught a week ago, Rabbi Ginsburgh, who heads the Od Yosef Chai yeshiva in Yitzhar, spoke to Hilltop Youth who have been barred from entering the West Bank.

The rabbi made sure to walk the line, on the one hand calling on the extremist teens not to do any actions that would lead to their imprisonment, while on the other hand encouraging a "revolution."

"Everyone knows what my opinion is. It's a pity to sit in prison," he told his listeners, including prominent agitator Meir Ettinger, the grandson of Rabbi Meir Kahane, who is considered the number one target of the Shin Bet's Jewish Division.

"Perhaps the situation in prison today is better than something else, but from the outset it is a shame for the force that sits here today to waste their time in prison," Ginsburgh added.

Explaining how the Hilltop Youth should act, he quoted from Proverbs, saying "'For by wise counsel thou shalt make thy war,' you need to think about how to do things wisely, in a way that doesn't land you in investigations or arrest, but does work in practice. What it comes down to is creating a revolution in the country. What worked before, against the British, is not relevant today. We need something else."

There has been a recent spike in hate crimes committed by extremist Jews against Arabs and Palestinians in the West Bank and in Jerusalem, alongside increased clashes between security forces and youth in the settlement of Yitzhar.

In response, the Shin Bet issued more than 30 restraining orders and administrative orders in short time, barring known agitators from entering these areas or meeting with other known perpetrators.