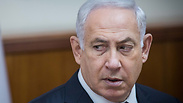 PM Benjamin Netanyahu
Photo: Yonatan Zindel/Flash 90
Police: There's sufficient evidence to indict Netanyahu in illicit gifts affair
Investigators believe an offense was committed, but have yet to determine what to charge the PM with; however, legal sources argue the question of whether Netanyahu provided something in return for the gifts remains the deciding factor between improper conduct or a criminal offense.
The Israel Police's Lahav 433 investigation team believes that there is already enough evidence to file an indictment against Prime Minister Benjamin Netanyahu in the illicit gifts affair, even though is still waiting for testimony from Australian businessman James Packer.

The police managed to contact Packer about the investigation and are now waiting to set a date. After interviewing Packer, the investigators plan to present their conclusions and recommendations to the attorney general.

Police sources said the recommendation to file an indictment against the prime minister would not change, regardless of what Packer says, because most of the case is based on the gifts Netanyahu received from businessman Arnon Milchan, relying on his testimony and evidence provided by his assistant.

However, the investigation team is still divided over what offense to charge Netanyahu with: receiving illicit benefits, fraud and breach of trust, or something else.


According to a senior police official, a series of meetings was held in recent weeks between representatives of the police and representatives of the State Attorney's Office and the Attorney General's Office concerning the investigations against Netanyahu.

The police claim that even though they presented their position on the state of the investigation several times, they were required by the attorney general to gather more information and evidence, the last of which included a collection of bank documents and receipts from various sources.

According to sources involved in the investigation, the Ministry of Justice's insistence on the testimony from Packer is currently preventing the police from concluding the investigation.

For months, the police and the prosecution had been struggling to set a date and place to interview Packer, but recently, with the help of international investigators, they were finally able to contact him.

The police hope the investigation will be concluded in the coming days.

"Even without his testimony, we have strong evidence," a source involved in the investigation said. "We're waiting for Packer, but we cannot drag this on any longer."

The prosecution, though, is less convinced, demanding evidence show Netanyahu has given something in return for the gifts. Without providing something in return, they say, it may be improper conduct, but not a criminal offense.

A spokesperson on behalf of the prime minister said, "What a surprise. What value is there to recommend charges when six months ago, it was leaked again and again that the police intends to recommend the prime minister be brought to trial? We repeat: There will be nothing because there was nothing."