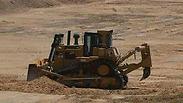 Buffer zone construction works
Hamas builds buffer zone at Gaza's Egyptian border
Hamas, which controls Gaza, decides after speaking with Egyptian officials to create a buffer zone to prevent the smuggling of arms and passage of ISIS operatives to and from the Gaza Strip; In exchange, Egyptians to supply Gaza with electricity and orderly opening of Rafah Border Crossing.
The Interior Ministry in the Gaza Strip began work Wednesday to build a buffer zone between the Gaza Strip and Egypt in order to increase security in the border area and prevent the transfer of arms and passage of ISIS operatives from Sinai to the Gaza Strip and vice versa.

This is part of the understandings reached by the Hamas delegation during its visit to Cairo and its meetings with senior Egyptian intelligence officials.



The works include flattening the land with bulldozers and tractors to create a strip 100 meter wide along the border, stretching from Rafah Border Crossing to the sea.

This is the first buffer zone of its kind between the Gaza Strip and Egypt, similar to the one currently in place along the security fence with Israel, which is intended to prevent the rocket launches and illegal crossing from the Gaza Strip into Israel.

Commander of Hamas' internal security forces, Tawfiq Abu Naim, said that the work included removing all obstacles that prevent the observers from seeing what is happening along the border, including trees and hills.

In addition, smuggling tunnels at the border will be destroyed, along with anything that will help smugglers and infiltrators trying to illegally cross the border.

Abu Naim noted that the work would include setting up a network of cameras, observation posts and lighting, which are supposed to ease control of the border area. "We will not allow anyone to cross the area and it will become a closed military zone. Anyone who enters it will stand trial in military trial. If necessary, we will increase the size of the buffer zone."

The decision to build a buffer zone is the result of a meeting held by senior Hamas figures with senior Egyptian intelligence officials in Cairo. The Egyptians sought to create as much separation as possible between the Gaza Strip and the ISIS-controlled areas in the Sinai Peninsula.

In recent years, Hamas has helped the Islamic state with logistics issues, and possibly also with manpower issues. In return, ISIS ensured that the smuggling route of arms from Sinai to the Gaza Strip continued its operations.

In return for Hamas' compliance with the Egyptian demands, Cairo will provide a series of concessions to the terror organization, such as infrastructure to connect Gaza to Egyptian electricity sources or a more orderly and frequent opening of the Rafah Crossing for people and even for trade goods—something Hamas desperately needs.

"We reached this situation after an agreement and the understandings we achieved in Cairo to end the infiltration and smuggling at our border in coordination with the Egyptians," clarified Abu Naim.