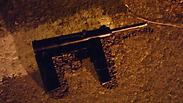 The weapon carried by the neutralized terrorist
IDF Special Operations Unit Duvdevan neutralized an armed Palestinian on Thursday evening, during a sweep of the city of Hebron. The Duvdevan unit, comprised of mista'arvim (a soldier disguised as an Arab for intelligence gathering purposes), was searching for concealed weapons when it came across the armed Palestinian who opened fire on them. They returned fire, and as a result the Palestinian was killed. No Israeli army soldier was injured during the incident.

Duvdevan had originally entered Hebron's neighborhood of Jabel Jawar to arrest another Palestinian man, who was believed to be a weapons dealer who was holding several homemade weapons at his house. An initial IDF investigation found that as they were approaching the house, another Palestinian man—the one they encountered with a weapon—opened fire on the IDF fighters, who fired back. After killing him and retrieving his weapon—a submachine gun whose model is called Carlo—they continued on to their original target.