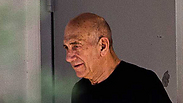 Ehud Olmert
Photo: Tal Shahar
Parole board grants Olmert early release
After serving a year and four months behind bars for corruption, the former Israeli premier receives favorable decision from parole board granting him early release set to take effect Sunday; State Prosecutor's Office may seek delay in decision to slash his sentence by a third.
Former Israeli prime minister Ehud Olmert was granted early release from prison by the prison parole board on Thursday morning after serving a year and four months behind bars.

Olmert served two thirds of his sentence after being convicted in 2015 in the so-called Talansky case, in which he was accused of accepting money-filled envelopes from American Jewish businessman Morris "Moshe" Talansky in return for favors.



With the decision, the former premier is supposed to walk free this Sunday. Nevertheless, the State Prosecutor's Office may throw a spanner into the works by seeking a delay in the decision's implementation.

Speaking outside the prison, Olmert's attorney Shani Illouz hailed the decision, and described her defendant's mood in light of his renewed freedom.

"He is extremely happy but I can tell you that he is still shocked by the things that have been thrown in his face," the attorney told a group of journalists.

Referring to the controversy over his soon-to-be published memoir in which police recently raided Yedioth Books publishers amid fears the documents being used for it were classified and related to an investigation currently underway against Olmert, the attorney highlighted that the board had determined that there was no problem with its content.

"The board made its decision on the matter," she said, "since the book was written well before anyone told him he was forbidden from publishing the book. That is written in the decision."

The attorney also noted that Olmert would volunteer at the NGOs Ezer lemarpe and Leket—which seeks to improve efficiency in food distribution and surplus.

"Olmert requested to volunteer of his own volition. He is not obligated to do so due to his age. In addition, he will be treated once a week by the Prisoner Rehabilitation Authority. Like any other prisoner, he will be required to (sign off on his arrival) with the police twice a month. Apart from these conditions, no further restrictions were imposed," the lawyer stated.

MK Yoel Hasson (Zionist Union), a personal friend of Olmert's, welcomed the decision, insisting that the convict had paid the price of his actions. "The decision is correct from a legal, personal and, I think, public standpoint. I think there is a feeling among the public that Olmert has paid the price … and we need to let him go home," Hasson said, before claiming that Olmert had been subjected to relentless mistreatment.

"There has been serious maltreatment here. There was an attempt to endlessly harass him. Even while he was in prison he was harassed."

Speaking shortly before the decision was taken, a close associate of Olmert's said: "He hopes that he will be able to be released this morning and return to his children and grandchildren. That is all he cares about right now. He thinks, and justifiably so, that he doesn't deserve to be there for another day. There is no justification for keeping him in prison."

Nevertheless, the Prosecutor's Office opposed his release throughout the prolonged deliberations, citing a new memoir Olmert has been working on in prison.