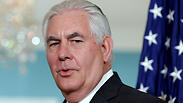 US Secretary of State Rex Tillerson
Photo: Reuters
Tillerson urged to appoint special envoy on anti-Semitism
Religious leaders, lawmakers, and former federal officials call to fill vacant position of Special Envoy to Monitor and Combat anti-Semitism amid reports the Trump administration plans to eliminate the role, while US Secretary of State Tillerson questions need for special envoys.
Religious leaders in the US along with lawmakers and former federal officials have urged Secretary of State Rex Tillerson asking him to fill the position of Special Envoy to Monitor and Combat anti-Semitism at the State Department.
"As faith leaders who care deeply about combating anti-Semitism, we know how critically important this Special Envoy role has been in representing our government abroad on a range of issues affecting the safety and welfare of Jewish communities," read an open letter written by the ADL and signed by nearly two dozen representatives of the Catholic, Protestant, Evangelical, Muslim, Sikh, Hindu and Jewish faiths.
"We urge you to clarify your position and commit to filling this statutorily mandated appointment as soon as possible."
The Special Envoy position, which was created in 2004 under the Global Anti-Semitism Review Act, helped define the State Department's working definition of anti-Semitism, in addition to monitoring, reporting on and combating acts of anti-Semitism and anti-Semitic incitement abroad. The position has been vacant since US President Donald Trump took office in January.
Bloomberg reported in February the White House was considering eliminating the position, along with other special envoy positions dedicated to climate change and Muslim communities among others.
Plans to elimite the position as part of the Trump administration's efforts to make drastic cuts in government spending were also crticized by the American Jewish Committee, the Simon Wiesenthal Center, more than a 100 Holocaust organizations, educators and scholars.
US Rep. Chris Smith, R-NJ, who authored the Global Anti-Semitism Review Act under George W. Bush's administration, also came out against plans to defund the office, noting recent bomb threats made to Jewish centers across the US as well as recent acts of vandalism at Jewish cemeteries.
"It is vital that one senior law enforcement official has the mandate to lead efforts across the government to anticipate, prevent and respond to threats and attacks—especially violent ones—against the American Jewish community," Smith said in a statement.
Hannah Rosenthal, who served as the special envoy from 2009 to 2012, asserted that "If someone is not tasked with this responsibility, it will not be done."
She went on to say the working definition of anti-Semitism formulated by the office has been helping American diplomats around the world "push back" against offensive activities and speech.
Her successor, Ira Forman, who served as the special envoy from 2013 to January 20, 2017, echoed those sentiments, saying US leadership around the world "will vastly diminish if the office of the special envoy is not supported by senior leadership at the State Department."
State Dept. questions whether position needed
A State Department official quoted by NBC News said the Department wants to ensure it was "addressing anti-Semitism in the most effective and efficient method possible and are exploring the best means to continue to do so."

The State Department, he said, "remains concerned by high levels of anti-Semitism in many other countries."

Tillerson was asked about the vacant position when testifying in front of the US House of Representatives' State, Foreign Operations, and Related Programs Subcommittee on June 14.

Rep. Grace Meng, D-NY, said during the hearing, "We have written a bipartisan letter and made repeated calls from Congress for you to fill this seat. By what date do you know if you will have appointed a new special envoy to monitor and combat anti-Semitism?"

Tillerson said the State Department was trying to ascertain whether the special envoys "weakened our attention to those issues," arguing that other diplomats avoid dealing with the issue because there is a special envoy in place.

"One of the questions I've asked is, 'If we're really going to affect these areas, these special areas, don't we have to affect it through the delivery on mission at every level at every country?'... And by having a special person, an envoy out here, one of my experiences is, mission then says, 'Oh, we've got somebody else that does that,' and then they stop doing it. And so it was not the intent."

The ADL rejected Tillerson's assertions, saying, "We appreciate the sentiment you expressed that all diplomats should feel responsible for combating anti-Semitism. However, concerns about anti-Semitism do not always make it on to the agenda of diplomatic meetings, especially when many other legitimate and pressing issues require attention. By contrast, when the Special Envoy meets with foreign officials, anti-Semitism is the agenda."