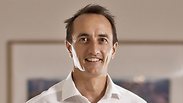 Dave Sharma
Photo: Yuval Chen
'If Israel abandons the values of democracy, it will lose world's support'
In a farewell interview, Dave Sharma, Australia's ambassador to Israel, talks about the security ties between the two countries and the need for an Israeli-Palestinian peace agreement both sides would benefit from, and announces that 'by the end of 2018, it will be possible to fly from Tel Aviv to Sydney directly.'
Dave Sharma, who finished his four year service as as the Australian ambassador to Israel last month, left his replacement a list of tips for survival in the Jewish state.

"Australia has snakes, sharks, spiders, etc. Here in Israel, I explained to him, there are no dangerous animals, at least not outside the Knesset," says Sharma with a charming smile as he continues to lay out his tips.

"Do not wear a suit; ties in Israel are only for funerals and official events. The tuxedos should be pushed deep into the back of your closet, you will not need it.

"You must learn some Hebrew phrases. If anyone says to you, 'It will be alright'—start worrying. The word 'balagan' means something isn't working at all, but in the end it somehow works out.

"There is no such thing as a line in Israel. And it's a waste of time to stand in one, because everyone will cut you and try to get ahead, and you'll be the sucker who finds himself at the back."

Sharma, 41, was sad to leave Israel. If he could, he would have extended his term another year, but he already received a one-year extension, the maximum possible. During his time here, he managed to acclimatize to Israel, fall in love with the country, and get to know it in depth. One might say that he is one of the most Israeli ambassadors to have served here, and perhaps the most popular as well.

He would travel almost 16 kilometres every day from his villa in Herzliya Pituah to the embassy on Yehuda Halevi Street in Tel Aviv (yes, there's a shower). When our photographer went to his house, he had just fixed a bicycle tire.

In the afternoon, Sharma would eat shawarma, falafel or sabih, and he knows where the best hummus is served, ("Carmel Hummus in the Carmel Market," he reveals). And most of all, he will miss Israeli breakfasts and shakshuka.

Sharma was born to an Australian mother and an Indian father who lives on the Caribbean island of Trinidad and Tobago. His parents met in London. He was born in Canada, and at the age of four moved to Australia. He studied Law at Cambridge University, like his father, who is a lawyer. Despite his studies, he dreamed of becoming a doctor and even began studying medicine. However, he dropped out after a year and joined the Australian Foreign Ministry in 1999. As a diplomat, Sharma was considered a rising star. He served, among other things, as a political advisor at the Australian Embassy in Washington, and then as head of the International Department in the Australian Prime Minister's Office.

During his time in Washington, he became acquainted with Middle Eastern issues and began to show great interest in Israel.

"Israel looked to me like a fascinating and unique country in the Middle East, as well as a good place to live in, with Western values and a high standard of living," he says. "This is a country that is always on the news, and as a diplomat, you want to serve in a place that is in the headlines, and one in which the Foreign Ministry calls all the time and asks what is happening. I wanted to serve in Israel, but my wife told me: 'Are you kidding me? What will the children do? It's not safe.' The usual reactions from people who hear about Israel."

In 2013, he received an offer to serve as ambassador to Israel, but his wife vetoed it. Sharma recruited a close friend who worked as a journalist in Israel to try to convince her.

"He said to her: Israel is a wonderful place. You will see Tel Aviv, the beaches, you'll love the place. It took us a week before she said yes, but from the moment she arrived in Israel, she really fell in love. The truth is, this happens to all of the Australians who come here. At first, they are pretty shocked. They expect it to be tense, a lot of police and soldiers. But then they say: This is just like Australia and Western Europe. It's amazing to see the transformation they undergo. After a week in Israel, their hair is suddenly wild and they want to bring their families over."

How do you explain this? Is the foreign media distorting Israel's image?

"I do not blame the media. There is a conflict they need to cover. But I think everything else happening in Israel is not being covered. If you do a Google search on Israel, you see confrontations at checkpoints, terrorist attacks, IDF operations in Syria: People think this is all that happens in Israel. even though there are hundreds of other things happening here."

Can it be changed, or is it a lost cause? There are terror attacks all over the world now, but other places are not branded in this manner.

"People all over the world now understand how the Israeli people are forced to live. Israel understands more than any country what other Western countries are going through. because it has been under the threat of terrorism for decades. Israel has proven a country can continue living normally without turning into a police state. I saw it during Operation Protective Edge. I was here during the terror attack at the Sarona Market, the terrible attack at the synagogue in Har Nof. The stabbings in Jerusalem, the car ramming attacks. I am always surprised and impressed by how fast the Israelis return to routine. I remember everyone returning to the beaches and filling up the restaurants the day after Operation Protective Edge ended. I visited Sarona Market a day after the attack and the shops were already open and people were not afraid to come back. It is very important."

The day after the attack in Sarona, you went with your embassy staff for coffee at Max Brenner. Why was it important to do that?

"It was a gesture of solidarity with the people of Israel. We wanted to say that if you are not afraid, we are not afraid. We received amazing and heartfelt responses from the Israelis, but we did not do it for the responses. We wanted to do something meaningful."
A farewell speech in Hebrew
Sharma was stationed in Israel at the age of 37. He is married to Rachel Lord and is the father of three daughters. The youngest, Daphne, is four years old and has lived most of her life as an Israeli. Sharma says his daughter has a warm Israeli temperament and only eats Israeli food (bourekas, shakshuka and hummus). Sharma often flavors his speech with Hebrew words—"balagan" (mess), "shtuyot" (nonsense), "habibi" (my friend), "walla", "bo nathil" (let's get started), "sliha al haihur" (sorry for being late). When he speaks about Israel, his eyes light up, as if he were a Zionist or a Jew—even though he is not. At his farewell party, he gave a speech in Hebrew, declaring, "Israel will always be in our hearts, Israel will always be in our blood."

What has been your greatest achievement as an ambassador?

"There are a few. To have Prime Minister Netanyahu visit Australia was a great achievement. An Israeli prime minister had never visited Australia prior to this visit. It was a significant visit, not only symbolic. He promoted relations at all levels. In October, Australian Prime Minister Malcolm Turnbull will be visiting Israel to continue the process and to further strengthen Australia-Israel ties.

"We have also succeeded in advancing the hi-tech relations between the two countries, despite the massive distance—20-hour flight and 15,000 kilometres. Australian start-ups are coming to Israel to get to know the local market, as do Australian investors. Today, 14 Israeli companies are on the Australian Stock Exchange. When I arrived in Israel, four Australian delegations visited a year. This year, there were 14. It's crazy. I can't keep up with it."

What about cooperation in the fight against terrorism?

"Australia has been facing both domestic terrorism and the external threat of ISIS and has been fighting against terrorists with an iron fist. Israel has been dealing with this for years and Australia has learned a lot from Israel. We have learned from you how to deal with terrorism while at the same time maintaining civil liberties and normal life. Many Australian counterterrorism police officers have visited Israel. You help us with issues like airport security, profiling, passenger screening, security at large-scale events, VIP security, intelligence gathering, locating individual terrorists on social networks and more."

Would you say that Israeli assistance has helped save the lives of Australian citizens?

"Definitely yes."

Ambassador Sharma says the Australian army is also involved in defending Israel's borders. There are Australian soldiers among the UN forces in the Golan Heights and in southern Lebanon. An Australian commander leads the multinational force in the Sinai Peninsula, both overseeing the peace treaty between Israel and Egypt and taking part in the war against ISIS in the peninsula.

Australia is now considered one of the friendliest countries towards Israel. It is one of the only nations to consistently support Israel in important votes at the UN and it almost never condemns Israeli construction in the settlements.

"We support a two-state solution and the establishment of a Palestinian state," Sharma clarifies. "But we focus on the practical elements in order to get there. This cannot be a zero-sum game where one wins and the other loses. The two-state solution will only work if it is a win-win for both sides. If we criticize one side, it will not necessarily motivate them to make difficult decisions and to make the compromises needed to implement the two-state solution.

"In the past, both sides had to make concessions and only focused on what they were losing instead of what they were gaining from a deal. In my opinion, this is why the efforts failed. I think the Trump administration is aiming for the agreement to be part of a regional framework in which both Israel and the Palestinians will stand to benefit.

"Israel is a democratic country and its leadership is democratically elected, and we cannot expect politicians here to make decisions that will lead them to lose power. The same thing applies to Mahmoud Abbas on the other side. He is dealing with local politics. The theoretical two-state solution does not make sense if you cannot sell it to your public."

Do you truly believe there is a chance to reach a peace agreement with the Palestinians at this time?

"I don't know whether I would get to see two states or a final status agreement in my lifetime, but that doesn't mean nothing can be done. There are steps that could improve trust, security and the quality of life. It might take another generation before we could reach a final status agreement. Look at the agreements Israel has with Jordan and Egypt. There's peace between your countries. It takes time."

Along with his love for Israel, Sharma is concerned about anti-democratic things happening in the country. "Israel's strength and its ability to survive depends on the vitality of its democracy, its liberal and pluralistic nature, its freedom of press and freedom of expression, no less than its military superiority," he says. "Values such as separation of powers and the free press, the fact citizens and organizations can criticize government policy without being outlawed or arrested—all of this makes Israel unique in the Middle East and grants it international legitimacy. Israel depends on the support of the West, which is based on shared values, shared morality and common governing methods. If Israel abandons these principles, in 20-30 years, it will not enjoy the same legitimacy and support it enjoys today."

According to Sharma, "The democratic nature of Israel is as important as its Jewish nature, and I don't think you need to strengthen one at the expense of the other. Today, Israel's Jewish nature is expanding at the expense of its democratic and pluralistic nature. When you see things like this happening, it becomes increasingly difficult to identify with Israel from the outside. This is bad hasbara."

Ambassador Sharma and his wife have a soft sport in their hearts for the Ziv Medical Center in Safed. The hospital has treated more than a thousand Syrians wounded in the civil war raging in the neighboring country. When the ambassador first came to Israel, he was surprised to learn Israel was treating citizens of an enemy country. Since then, he and his wife have organized fundraising projects for the hospital.

What do you regret not being able to do during your tenure?

"That we have not yet established direct flights between Israel and Australia. I set this as a goal and discussed it with Netanyahu, Tourism Minister Yariv Levin and Transportation Minister Yisrael Katz. I also spoke with Australian airline Qantas. I believe we will see direct flights towards the end of 2018. I'm hoping to have Qantas do a pilot of direct flights to Israel this October, as 3,000 Australians are arriving on charter flights for the 100th anniversary events marking the liberation of Be'er Sheva from Ottoman rule in World War One (by ANZAC, Australian and New Zealand Army Corps). The prime minister of Australia will also participate in the event."

Sharma will return to Sydney and take half a year off to decide whether to return to the Foreign Ministry or retire. Based on the amusing video that the embassy produced, in which Sharma leaves a list of tips for his successor, he certainly can consider a career in acting.