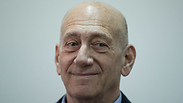 The State Prosecutor's Office announced Thursday evening that it would not appeal the parole board's decision to release former Prime Minister Ehud Olmert after serving two thirds of the sentence. This means that Olmert will leave prison for his home this Sunday.

The Justice Ministry said in a statement: "In a discussion at the attorney general's office this evening, with the participation of the state prosecutor and the top echelon of the State Attorney's Office, the parole board's decision in the case of Ehud Olmert was thoroughly studied.

"The State Attorney's Office recommended that, on considering all the circumstances of the case, there is no basis for appealing to the district court against the parole board's decision. The attorney general adopted the recommendation, and accordingly it was decided not to file an appeal with the district court."

The parole board of the Israel Prison Service had decided earlier that day to release Olmert. Controversy broke out over his soon-to-be published memoir, resulting in police raiding Yedioth Books publishers amid fears the documents being used for it were classified and related to an investigation currently underway against Olmert.

However, the parole board commented in its decision: "The prosecution's claim that violating the IPS's instructions in the matter of the book indicates a continuing pattern of fraud is unacceptable to us. In order to discuss the request for the prisoner's release, we must address the security and legal issues involved in this issue."

"It is clear to us that hundreds of pages of the book have been released from prison and returned to the prisoner before and after November 2016, and this is openly known to the IPS, and without any factor trying to prevent this conduct until the middle of May," it added.

The parole board further commented: "(Olmert) was punished for his actions and paid a heavy price. … We decide to accept his application for conditional release in accordance with the Prisoner Rehabilitation Authority's plan. "

Olmert served two thirds of his sentence after being convicted in 2015 in the so-called Talansky case, in which he was accused of accepting money-filled envelopes from American Jewish businessman Morris "Moshe" Talansky in return for favors.