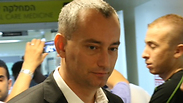 Mladenov
Photo: Motti Kimchi
UN sends envoy in effort to bridge gap between Hamas and PA over power crisis
UN Envoy to the Middle East, Nickolay Mladenov, meets with Hamas leader Ismail Haniyeh in attempt to get Hamas and Palestinian Authority to cooperate over electricity; Mladenov proposes EU will pay the excise tax on diesel fuel entering Gaza Strip, if both sides agree to it.
An effort to find a solution to the electricity crisis in the Gaza Strip. The UN envoy to the Middle East Nickolay Mladenov met with Hamas leader Ismail Haniyeh and a number of senior officials in the Gaza Strip on Thursday to try to bridge the gap between Hamas and the Palestinian Authority.

Mladenov specifically spoke with Haniyeh and a number of senior Hamas officials to work out a way out of the crisis between Gaza has been in, with the PA's suspension of Gaza's electricity payments, the PA's demand that Hamas pay it for the services the PA provides to Gaza and the amount paid by Hamas for patients leaving Gaza for treatment in Israel or the West Bank.

Gazans have been trying to cope with the lengthy outages, whose ramifications Hamas has called "catastrophic." The poor have been relying on battery-operated lights, the middle class on communal generators and the few wealthy families have turned to solar energy. Abbas's demand that Israel reduce Gaza's electricity has put Israel in the tough spot of having to choose between siding with Hamas in the internal Palestinian struggle or risking a humanitarian crisis in the impoverished coastal strip.




The Al-Hayat newspaper reported Friday that Mladenov had suggested to Hamas's leadership that the European Union pay the excise tax on diesel fuel entering the Gaza Strip to operate its power plant, which Hamas and the Palestinian Authority refuse to pay. In return, the EU will be allowed to erect an oversight body in Gaza.

It was also reported that Mladenov is working to find a solution for the payment of electricity lines to the Gaza Strip from Israel.

The electricity crisis began almost three months ago after the Palestinian Authority informed IDF Coordinator of Government Activities in the Territories, Maj. Gen. Yoav Mordechai, that it will no longer pay for the electricity it supplies to Gaza. The announcement came against the background of the power struggle between President Mahmoud Abbas and Hamas leader Yahya Sinwar: in return for a payment for electricity, the Abbas-led Paletinian Authority demands to receive control over the Gaza Strip and border crossings, as well as receiving tax payments from the Gaza Strip for the services and goods it provides its citizens. After Hamas rejected the demands out of hand, Abbas decided to reduce the supply of electricity in the Gaza Strip until he regained control of it.