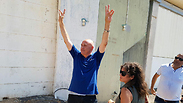 Former MK Basel Ghattas begins first day in prison
The former Arab Joint List MK prepares to enter prison cell after being sentenced to two years for smuggling cell phones to security prisoners and transferring encrypted messages between inmates in Ktzi'ot Prison; 'I am entering prison with my head held high,' Ghattas declares outside the prison walls.
Former MK Basel Ghattas (Arab Joint List) arrived at Gilboa Prison on Sunday morning to begin his first day behind bars after being sentenced to two years for smuggling cellphones to security prisoners in Ktzi'ot Prison.

"I am entering prison with my head held high," he declared both in Arabic and Hebrew before a crowd of journalists outside the prison perimeters. "I am entering proudly and upright and enjoy the real support of my people."

Basel Ghattas smuggling phones (חדשות 10)

In his opening his remarks, seemingly devoid of any regret or acknowledgement of wrongdoing, Ghattas said he would leave prison in the same manner in which he entered.

"Obviously I hope to work to get a third. I will leave prison in two years upright, with a raised head and will continue the political activities I have been doing for 40 years," he vowed. "I will continue to protect the rights of prisoners and bring their cases to the public agenda."

His declarations were met with rapturous applause from supporters, who then escorted him while chanting political slogans in Arabic all the way to the gates behind which he will now sit for the next two years.

Arriving outside the prison, MK Jamal Zahalka, also from the Joint List, said that the Arab community deeply appreciates Ghattas for bringing to public light what he and members of his party deem unfair treatment against the prisoners.

"He exposed the issue of political prisoners. He exposed the problem that is always in the backyard of everyday public discourse and that is important in and of itself," said Zahalka, who has consistently stood by his former fellow MK.

"We don't want to smuggle cellphones," he continued. "Our issue is that prisoners are given the right to use public cellphones like any other prisoner."

Also speaking outside the prison was one of Ghattas's staunchest supporters, MK Hanin Zoabi (Arab Joint List), who has repeatedly attracted fierce condemnation in the Israeli establishment for numerous actions and statements against Israel.

"We are separating from Basel for two years but we are not separating from our struggle to safeguard the rights of political prisoners," she stated. "Basel did not flee responsibility, he is paying the price and he deserves respect."

Ghattas's sentence was handed down by the Be'er Sheva Magistrate's Court in April following the approval of a plea bargain in which he showed no remorse for his actions, instead justifying them on humanitarian grounds.

He was arrested last December and subsequently confessed to breach of trust, providing means to carry out acts of terrorism, smuggling electronic devices into prisons and transferring encrypted messages between security prisoners. He was officially convicted in March.

The indictment issued in January pointed to the ties between Ghattas and terrorist Walid Daka—who is serving a life sentence since 1984 for his involvement in the murder of IDF soldier Moshe Tamam—and with prisoner Basel Bizra, a Fatah member.