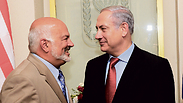 Isaac Fisher with PM Netanyahu
Photo: Israel Hadari
Tycoon withdraws funds from Israel amid Kotel, conversion crisis
Real estate magnate Isaac "Ike" Fisher, a stalwart supporter of Israel and financial investor in Israeli social projects, announces plans to pull back from schemes and suspend involvement in lucrative fundraising projects until Israel reverses its decisions which have fractured Israel-diaspora relations; 'Enough is enough,' says Fisher.
Fissures in relations between Israel and US Jewry are threatening to become even deeper following the government's controversial decision last week concerning Jewish conversions and the Kotel, as Jewish philanthropist Isaac "Ike" Fisher announces intentions to withdraw funds from Israeli projects.

The real estate magnate, with his fingers in multiple pies directly affecting Israel, has expressed unequivocal disapproval of the coalition's move to delay the construction of an egalitarian prayer section near the Kotel and to approve a bill that would enable the ultra-Orthodox political parties to retain a comprehensive monopoly over all conversions—past and future.

Fisher made his latest investment as recently as last week, pumping $1 million into Israeli bonds, but has since asked for his money to be returned. Moreover, he has announced that he is suspending fundraising activities for Israel until the conversion bill and Kotel crisis is resolved.

If his threats are indeed carried through, the consequences could be multi-faceted. For example, as a member of the Friends of Tel Aviv University group, Fisher provides annual grants to students in his mother's name.

In addition to generous donations he makes to the university which could now find itself directly bearing the brunt of political spats in Jerusalem, other social projects such as the development of the northern town of Or-Akiva or Yeruham to the south which he is financing could also be adversely affected.

Furthermore, when his son Kobi celebrated his Bar Mitzva, Fisher's family financed the creation of a soccer team for Ethiopian youths in the town of Pardes Hanna-Karkur located in the Haifa District.

Fisher's influence is not limited to social and housing projects however. Indeed, it also extends deep into Israel's security interests, as exemplified by the painstaking efforts he took, and significant sums of money which he invested during his time as member of the Central Council of the pro-Israel US AIPAC lobby in a bid to convince Congress to quash the US-Iran nuclear deal. Now however, Fisher has announced that he is suspending his involvement in AIPAC.

"It isn't a matter of Reform or Conservative," Fisher told Yedioth Ahronoth in reference to the most liberal denominations of Judaism most affected the government's decision.

"This is a serious act of contempt for the rabbis and leaders of our communities. They (the Haredim and Prime Minister Netanyahu) say 'you don't matter. They say to our women 'your Judaism isn't Judaism.' It is intolerable and we have an obligation to put an end to it," he said.

The seemingly punitive measures Fisher plans to take include stepping down from his role as Chairman of the UJA Federation of Miami fundraising efforts—one of the wealthiest in the US—which could have a profound impact on Israel. Indeed, he has already said that he had informed the federation that he would not be working with it until Israel reversed its decision.

At the end of last week, Fisher sent a frank letter to deputy minister and former Israeli envoy to the US MK Michael Oren (Kulanu) apprising him of the string of measures he had decided to take over the matter.

"As you know, I actively support Israel," Fisher began. "But I wish to inform you that my support is being suspended until the Israeli government changes its decision on the Kotel and conversions."

Frustrated, Fisher concluded the missive by stating that "enough is enough. The time has come for the Israeli government to understand that its public includes all the people of Israel."

The multi-millionaires stance has raised fear among many Israelis that it may set a precedent for other wealthy businessmen who use their finances to back Israel's development. With thousands protesting the coalition's choice the strike one of the most sensitive chords that resonates with Jews worldwide, Israeli officials are well aware that Fisher's actions may constitute just the tip of the iceberg in what may become an increasingly precarious relationship with the Jewish diaspora.

"As a member of AIPAC's Central Board, this is a man who invests two days per week in Israel, and Ike also does a lot of other things aside from this. He is also a big philanthropist who brings many other wealthy Jews to contribute to Israeli projects," MK Oren explained.

He added that the entire issue represents a serious danger to Israel's economy and its security.