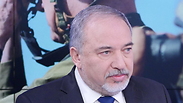 Avigdor Lieberman
Photo: Yaron Brener
Lieberman warns Hezbollah 'We know what needs to be done'
Def. Min. Lieberman refers to list of of concerns facing Israel, internally and externally; 'We have no interest in initiating escalation in north or south,' states Lieberman, stressing Israel nevertheless has 'large advantage' over Hezbollah.
Defense Minister Avigdor Lieberman (Yisrael Beytenu) on Sunday referred to the missile factories that Iran is trying to establish in Lebanon, in an effort to arm terrorist organization Hezbollah.

.

"We are aware of this and know what needs to be done," Lieberman told reporters at the IDF Kirya base. "This is a significant phenomenon and we cannot ignore it. However, since 2006 we have gained a large advantage (in our fight—ed) against Hezbollah, and as such we should not be in a state of hysteria or euphoria."


Lieberman's statement was released following one by Military Intelligence Directorate Head Maj.-Gen. Herzi Halevi, at the Herzliya Conference a week and a half ago. During his speech there, Halevi said that "over the past year, Iran has been working to establish an infrastructure in both Lebanon and Yemen that would be able to manufacture accurate weaponry. We cannot—and will not—remain indifferent to this. "

Lieberman also referred to the recent spillover of mortar shells from Syria to the Israeli Golan Heights, saying, "We do not recognize a readiness to use chemical weapons against us."

According to Lieberman, the IDF's measured policy of response is intended to prevent escalation that could lead to war.

"We have no interest in initiating an escalation in the north or south," said Lieberman. "In the Golan, we do not spot Assad's militias near the border, and even if there is spillover, we will respond with greater severity with each time."

Weighing in on the internal Syrian conflict and the world's stance regarding the country's totalitarian regime, Lieberman added that Israel "will not take part in an international arrangement as long as Iran is part of it, and we will oppose any agreement that leaves Assad, who has murdered 600,000 of his people using chemical weapons, in power.

"We will continue to act to assist the Syrians near the border with the provision of basic goods and medical treatment, as we have provided to 3,000 Syrians so far."

Lieberman also commented on the classified information given by US President Donald Trump to the Russians, which he had received from Israel. At the time, the Washington Post reported that Trump's information came from Israeli hackers who infiltrated a small cell of bomb squad operators in Syria.

"This is not the first time this has happened, but the lessons have been learned and it's behind us," he said.

Regarding the recent political crisis surrounding the plan to expand the city of Qalqilya, Lieberman said, "This is an argument I will be happy to manage between the sane and pragmatic right and the lunatic and messianic right."

Finally, Lieberman criticized the police raid last month at the offices of Yedioth Books, saying that the texts written by former prime minister Ehud Olmert had already been checked by the military censor.

"Everything that needed to be examined in terms of field security the censorship had handled properly, as it did with other books," he stated.

"The raid on the publishing house is reminiscent of another period and another country. I do not remember a precedent in which the police raided a publishing house. This is an affair that should be erased from the national memory."