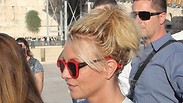 Britney Spears
Photo: Gil Yohanan
Pop icon Britney Jean Spears landed early Sunday morning in Israel. By evening, she had visited the city of Jerusalem and paid her respect to the Western Wall.
Spears was also slated to meet Prime Minister Benjamin Netanyahu on Sunday evening, but their sit-down was canceled due to an earlier raucous surrounding caused by adoring, if slightly overeager fans. "Hundreds of people jumped on her, and she decided to cancel it all," said sources close to Spears.
The Netanyahus and children waiting for Spears
"It was a huge mess, with hundreds of fans and photographers gathered around her. It was a real 'Israeli celebration'; she didn't stop an excursion during any other part of her latest tour. This could only happen here."
Spears visiting the Western Wall (צילום: גיל יוחנן)
The Spears-Netanyahu power meeting was also to include children battling cancer, however those in Spears's inner circle said that she will meet with them on Monday, and that they will be invited to her show.
Those close to Spears were furious over reports of the cancellation, saying that it was the Prime Minister's Office's fault, as it had rushed to put out a press release despite never receiving confirmation from the Spears camp that the meeting was to take place.
Britney is set to perform at Tel Aviv's Yarkon Park on Monday night. Some 50,000 thousand people are expected to be present.
This is to be Spear's first performance in Israel.