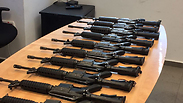 Seized weapons
Photo: Israel Police
Two brothers working as civilian contractors at an IDF base north of Be'er Sheva are suspected of breaking into the base's armory and stealing weapons and ammunition in order to sell them to criminal organizations, police said on Monday.

In addition to the two brothers, four other suspects have been detained on charges of weapons trafficking after they were identified by a state witness recruited by police.

The investigation into the theft began in late May after 33 M16 rifles were stolen from the base. Police quickly identified Lior and Avishai Itach as the central suspects in the case after discovering that one of the brothers worked as a repairman on the base's armory.

According to police, the brothers managed to steal the weapons and smuggle them to the north of Israel, where the two managed to pocket NIS 1 million from the sale. Police claim the two men smuggled the guns in the trunk of their car to a gas station on Highway 6, where they were transferred to accomplices. Payment was made several days later at a separate location.

In addition to the weapons and ammunition, the brothers also sold other IDF equipment such as magazines, vests, laser sights and more.

Following a raid on the suspects' home, police also discovered a large amount of drugs, including ecstasy and hashish, worth over NIS 200,000. Police also seized NIS 1 million in cash and several vehicles.

Police estimated each weapon was worth between NIS 30,000-40,000, while weapons sold in the north of the country are worth NIS 60,000.

Police also suspect the weapons have been transferred to criminal organizations in both the north and south, including Wadi Ara, Kafr Qara and Umm al-Fahm.

The investigation was conducted in cooperation with IDF Military Police and the Shin Bet, which suspected terrorist elements were involved in the case.

Investigators managed to recruit a state witness who took part in brokering the sale of the stolen weapons to arms dealers in the north. According to the witness and police, there are still additional suspects who have yet to be detained.